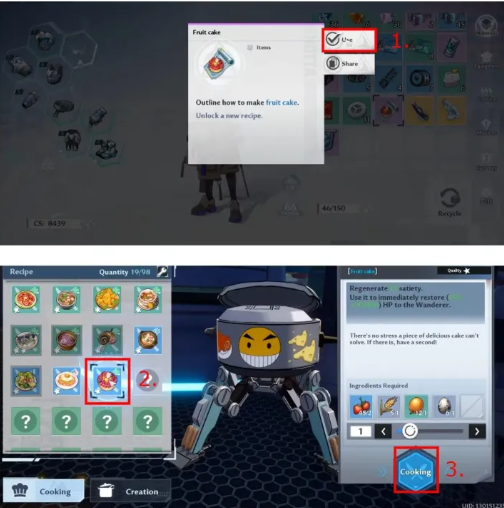 Tower of Fantasy also contains a cooker that allows you to cook different types of food.
The food you can cook is Wholegrain Bread, Sizzling Meat, Crispy Grilled Fish, and more.
You can restore your health, and regenerate satiety by using food.
Additionally, some food is required to complete quests.
In Tower of Fantasy, a quest that you need to perform is get the ingredients for a fruit cake.
This is related to the "Well Wishes" (Nico's Birthday Wish) quest.
After collecting the ingredients for it, place them in the cooker so you can make the fruit cake.
However, you might not have any idea about it, what are the ingredients for the cake because the hints are not available.
In this post, I will guide you on how to make a fruit cake for Nico for the "Well Wishes" quest in Tower of Fantasy.
How to "Make a Fruit Cake" for Nico in Tower of Fantasy
Here is a step by step guide on how to make a fruit cake for Nico in Tower of Fantasy:
You need to talk to Nico twice to get the fruit cake recipe.
Go to your inventory and use the fruit cake recipe.
Gather 2 strawberries, 1 homi grain, 1 fallen fruit, and 1 poultry egg.
Go to a cooker and choose the fruit cake recipe.
To make the cake, select "Cooking".
A lot of users are stuck at making the cake because they did not use the recipe in their inventory.
"Here I was wasting attempts because I didn't know that the recipe was in my inventory".
When you talk to Nico twice, she will give you the recipe.
The recipe will be sent to your inventory where you will activate it by selecting "Use".
If you didn't get the recipe because of a glitch/bug, abandon the mission and talk to Nico again.
What's Next
Mushroom Locations in Tower of Fantasy
Food Vendor Location in Tower of Fantasy
Iced Strawberry Soda Cooking Recipe in Tower of Fantasy
Arsalan Rauf is an entrepreneur, freelancer, creative writer, and also a fountainhead of Green Hat Expert. Additionally, he is also an eminent researcher of Blogging, SEO, Internet Marketing, Social Media, premium accounts, codes, links, tips and tricks, etc.