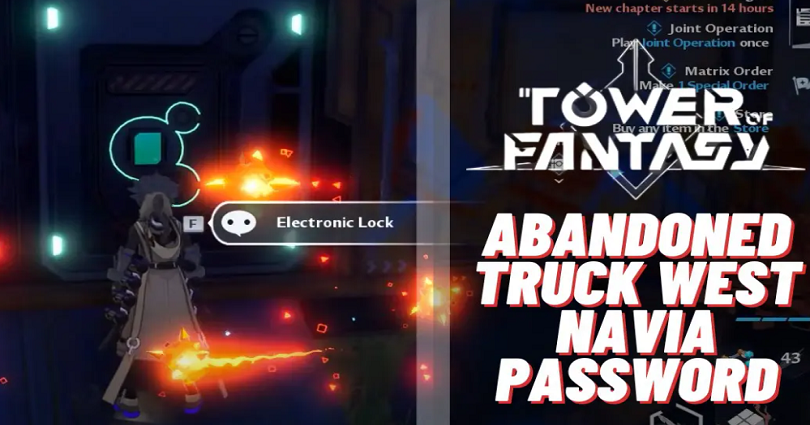 Tower of Fantasy contains a lot of missions/quests that you need to complete for rewards.
The game also contains side quests, stories, cutscenes, bosses, and so on.
You can get the rewards in the game are in-game currencies.
Your task is to decode the password memory on the Abandoned Truck in West Navia.
The password memory will provide you a hint that you need to deduce.
However, it's very difficult to decode the hint because it's not clear.
In this post, I will guide you what is the Abandoned Truck West Navia password and the hint given by the password memory in Tower of Fantasy.
The abandoned truck west Navia password is "3344".
If the password is incorrect, instead of that, use "2202".
The reason behind it is that there are two abandoned trucks in Navia and you might not be at the right one.
By interacting with the password memory, you can get a hint about the password.
The hint will be, "Accessing password permission from input backup log: The first and second digits are the same, the third and fourth digits are also the same; the third digit is greater than the second digit by 1".
According to the hint, your task is to use the trial and error method to get the right password.
The trial and error solution:
first digit = x
second digit = x
third digit = y
forth digit = y
third digit = x + 1
possible numbers for y = 2, 3, 4, 5, 6, 7, 8, 9
possible numbers for x = 0, 1, 2, 3, 4 ,5 ,6, 7, 8, 9
y = x + 1
x = y – 1
if y = 2, x is 2 – 1 = 1
The first password attempt is 1122 (incorrect)
if y = 3, x is 3 – 1 = 2
The second password attempt is 2233 (incorrect)
if y = 4, x = 4 – 1 = 3
The third password attempt is 3344 (correct)
What's Next
Ruin D-02 Password in Tower of Fantasy
Code-locked Door Password in Tower of Fantasy
Deconstruction Device PDW1 Password in Tower of Fantasy
Arsalan Rauf is an entrepreneur, freelancer, creative writer, and also a fountainhead of Green Hat Expert. Additionally, he is also an eminent researcher of Blogging, SEO, Internet Marketing, Social Media, premium accounts, codes, links, tips and tricks, etc.