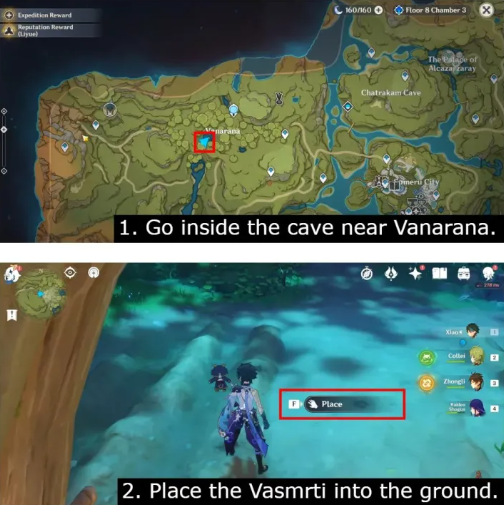 Genshin Impact contains multiple missions/quests that you need to complete for rewards.
The game also contains side quests, cutscenes, stories, and so on.
Some quests may look easy to you, but they are very hard in reality.
For instance, you might not be able to solve a puzzle.
However, the solution to the puzzle is clear.
In other cases, some puzzles or tasks are hard to complete as there are little or no hints for them.
You need to perform a task in the game that is to use Vasmrti in Genshin Impact.
However, you might have no idea where to plant them.
The reason behind it is that you will not get any directions.
In this post, I will guide you on how to use Vasmrti in Genshin Impact.
How to use Vasmrti in Genshin Impact
Here are the steps on how to use Vasmrti in Genshin Impact
Enter the cave near Vanarana.
Turn right and go inside the entrance.
Stand on top of the soil.
To use Vasmrti, Select "Place".
Select "Confirm".
Keep moving around the soil and place the Vasmrti in empty spots.
After selecting confirm, Vasmrti will sink into the soil.
Now, the next thing is to wait until the Vasmrti grows.
You can find/get Vasmrti by solving 13 Sumeru region puzzles.
These puzzles are called "Nurseries in the wild" which are scattered across Sumeru.
After solving or completing a Sumeru region puzzle, you can harvest the plant to receive 1x Vasmrti.
What's Next
Genshin Impact Usernames Ideas
How to Unlock Sumeru Commissions in Genshin Impact
How to "Take pictures of 3 different Tri-Lakshana Creatures" in Genshin Impact
Arsalan Rauf is an entrepreneur, freelancer, creative writer, and also a fountainhead of Green Hat Expert. Additionally, he is also an eminent researcher of Blogging, SEO, Internet Marketing, Social Media, premium accounts, codes, links, tips and tricks, etc.