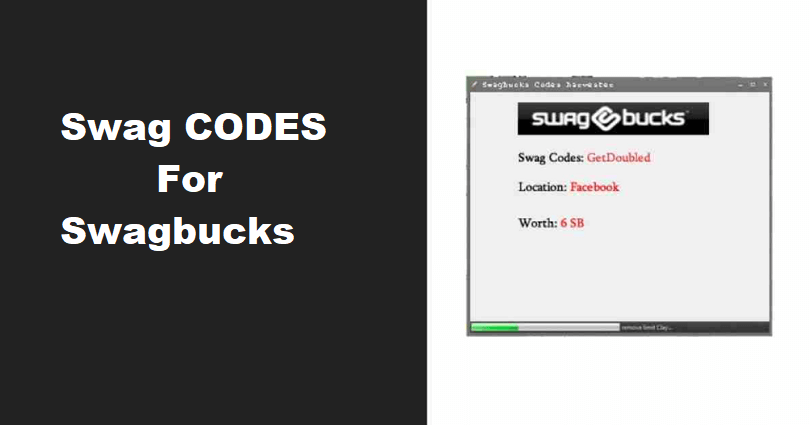 is a loyalty and consumer rewards program with a 4.3 stars rating on 31,000 reviews on Trustpilot.
It offers rewards as well as rewards such as Apple, PayPal, Amazon that you can redeem.
When you complete a survey, they give you points known as SB which you can redeem 100 SB for $1 USD in rewards.
Since its launch, Swagbucks has paid more than $820 million to its members.
New members can join for free, just sign up, verify their email address, and complete surveys.
This post has a list of Swag Codes that you can redeem on Swagbucks for free SB.
What are Swag Codes?
Swag Codes are another method that can be used to make money on Swagbucks.
You can use fun words and phrases available that will help you to redeem free SB.
This program focuses on hiding messages on the site of Swagbucks.
You can also find codes on official Swagbucks Facebook, Twitter, Instagram, or Pinterest because they are available and shared there.
How to get Swag Codes
To get Swag Codes, the best way is to follow Swagbucks on its socials including Facebook, Twitter, Instagram, or Pinterest.
You will find Swag codes on Swagbuck's Facebook page on a regular basis.
Whenever they do promotion of a product or service, you will find the codes there, they can be found in the form of text or a link.
Some codes are only valid for a limited time, for instance, 24 hours so the best thing is to access them to redeem them asap.
How to redeem Swag Codes
To redeem Swag Codes, visit this link: https://www.swagbucks.com/ and log in to your account.
After signing in to your account, click on the profile icon and after that, select "Redeem Swag Code".
Into the "Enter Swag Code" field, you have to paste or enter the code and hit the "Redeem Swag Code" button.
On the other hand, you can click on a Stealth Swag Code URL on a social media post in order to claim free SB.
List of Swag Codes 2023
GreatCredit
Shave
TrashBags
SlotMachine
Beverage
Explore
CheapFlight
ScoreCheck
Mist
Driving
HolidayCandy
VEGASB1NG0
APPLEQVC
GrowAndCrop
OnlineBanking
FirstMonth
OrderFood
Powercube
KohlsSale
RISEOFKINGD0M
PROTEINBAR
PASTAPASTA
SkillzGame
Battery
SaveBIG
GREENVEGGIE
TABASC0
ARM0RCAR
CYB3RM0NDAY
HSNGifts
Portfolio
Dyson
Just remember that the Swag Codes in the above list are based on a first-come-first-serve.
If you are not able to redeem a code, it is happening because the code may be expired or fully redeemed.
Usually, Swagbucks codes are redeemable for the first 10k, 11k, or 12k users.
I will add new Swagbucks codes free to the list soon, so you can bookmark the page and revisit it later.
What's Next
Arsalan Rauf is an entrepreneur, freelancer, creative writer, and also a fountainhead of Green Hat Expert. Additionally, he is also an eminent researcher of Blogging, SEO, Internet Marketing, Social Media, premium accounts, codes, links, tips and tricks, etc.