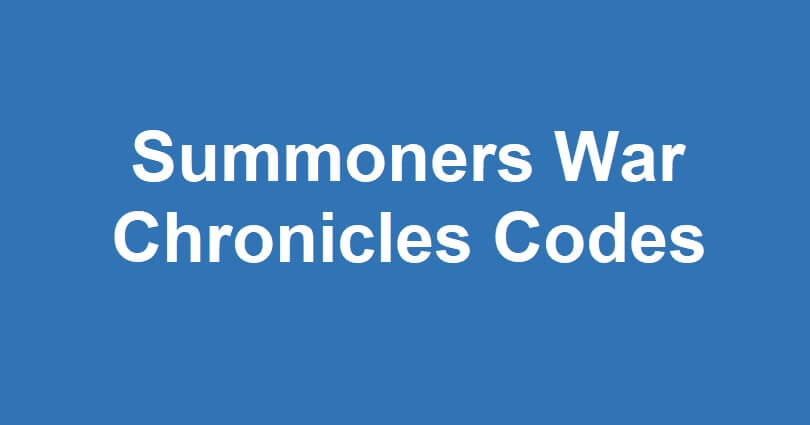 Summoners War: Chronicles is an exciting Action RPG that takes you to the origins of the Summoners war universe.
There are three unique summoners and you can choose one of them to play with and explore continents and call powerful monsters.
Select your character from Kina, Orbia and Cleaf, each of them comes with its own skills.
You will be able to fight with your summoned monsters in real-time for the very first time and cast powerful spells on it.
Experience the adventure of a vast world with different continents and use different game modes.
Start traveling in the universe of summoners war and uncover the untold story of the Rahil Kingdom in it.
This post has a list of free Summoners War Chronicles codes that you can redeem for rewards (Asia/Global/iOS).
How to get free packs in Summoners War Chronicles
To get free summoner war chronicles packs, use different survey sites including Survey Junkie or YouGov to earn rewards such as PayPal cash and buy them.
How to redeem Summoners War Chronicles codes
For iOS users:
Firstly, launch Summoners War Chronicles and choose the Settings icon.
Copy the CS Code and go to the Coupon Exchange website that is, https://coupon.withhive.com/771.
After that, provide your CS Code and the Coupon Code you want to redeem.
Choose the "Use Coupon" button.
Choose the server in which you want to achieve your rewards.
For Steam/PC users:
Follow these steps: Launch Summoners War Chronicles > Menu > News.
Now, select "Coupon Exchange".
Enter the coupon code to redeem it.
Summoners War Chronicles codes 2023
EGGNOG16
GINGERBREAD19
TRYSEAL22
HAPPYTHANKSGIVING22
THANKFUL4ALL
HELLO2023
GUILDRAID01
RAKAJA04
POWER04UP
2022XMAS
HNY2023SWCH
ENJOYGALAGOS
R0AC8UNI
L00UL99U
BERNARD10
0TRACTOR5
DIANNE06
HELLEA07
230427T08
230427G06
230427G04
0421TATU11
05NEWUPDATE
KONTANA01
05FARAKEL04
230427M14
0CONTINENT4
NEWSTORY03
ADVE02NTURE
230427K12
230427B10
230427S02
This list is set from the newest to the oldest codes, the newest are at the top and the oldest are at the bottom.
You need to keep in mind that these codes will work in US West and US East regions.
You can go to Global or Korea forums to get Asia codes.
If any code from the above list does not work, it shows that it is expired.
The reason is that codes for Summoners war chronicles global gift come with expiry dates.
In this case, you have to use another summoners wars code from the list.
The codes above have rewards such as Spell Book Boxes, Rainbowmons, Breath of Lifes.
They are case-sensitive, so you have to type them as you see them keeping in view the block and small letters.
I will update the list on a regular basis with new Summoners War chronicles codes, so you should bookmark the page to come back later for the new ones.
What's Next
Ragnarok Origin Global Gift Codes
Grand Piece Online Private Server Codes
The Strongest Battlegrounds Private Server Links
Arsalan Rauf is an entrepreneur, freelancer, creative writer, and also a fountainhead of Green Hat Expert. Additionally, he is also an eminent researcher of Blogging, SEO, Internet Marketing, Social Media, premium accounts, codes, links, tips and tricks, etc.