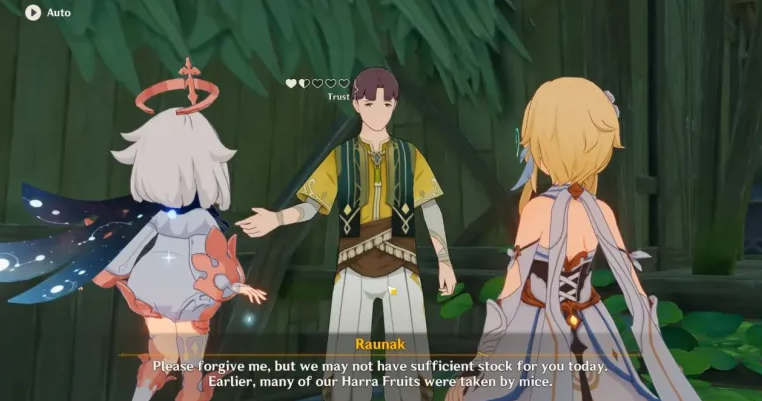 Genshin Impact contains multiple missions/quests that you need to complete for rewards.
The game also contains side quests, cutscenes, stories, and so on.
Some quests may look easy to you, but they are very hard in reality.
For instance, you might not be able to solve a puzzle.
However, the solution to the puzzle is clear.
In other cases, some puzzles or tasks are hard to complete as there are little or no hints for them.
You need to perform a task in the game that is to select the correct answers to gain Raunak's Trust.
However, you might not have any idea how to unlock them.
The reason behind it is that you will not get any directions.
In this post, I will guide you on what are the correct answers to gain Raunak's Trust in Genshin Impact.
Answers to gain Raunak's Trust in Genshin Impact
#1 Question: Please forgive me, but we may not have sufficient stock for you today. Earlier, many of our Harra Fruits were taken by mice.
Answer is: Congratulations to you.
#2 Question: You look like you have some skill. Why don't I pick out some fruits that'll make you dizzy.
Answer is: Dizziness with a side of tinnitus, please.
#3 Question: Would you like your Harra Fruits to be packaged in the Sumeru City or Port Ormos style?
Answer is: Port Ormos style.
After selecting all 3 right answers, you'll get maximum trust.
After that, it will play a cutscene, "What, the mantra!? Where? Alhaitham said we're done for if they catch us—we gotta get outta here!".
"We don't know this area, so let's follow that informant!".
What's Next
Contemplation Puzzles Answers in Genshin Impact
How to Unlock Sumeru Reputation in Genshin Impact
How to "Take pictures of 3 different Tri-Lakshana Creatures" in Genshin Impact
Arsalan Rauf is an entrepreneur, freelancer, creative writer, and also a fountainhead of Green Hat Expert. Additionally, he is also an eminent researcher of Blogging, SEO, Internet Marketing, Social Media, premium accounts, codes, links, tips and tricks, etc.