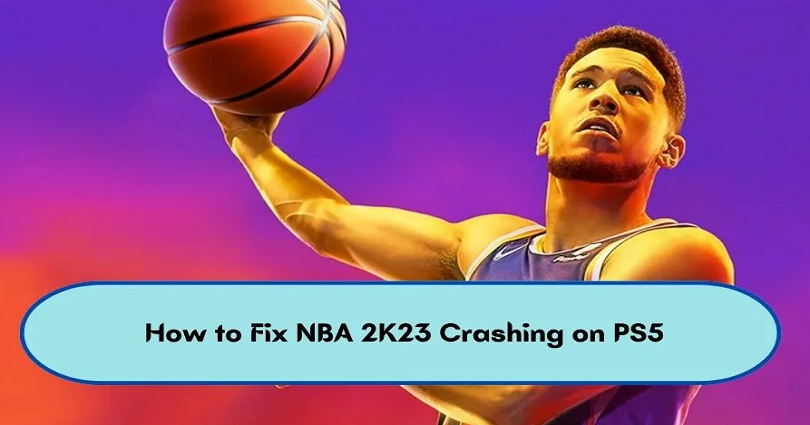 Is NBA 2K23 crashing on PS5, PS4, Xbox, or PC and do you want to fix it?
Is the game freezing or you're getting a blue screen when it reaches halftime on the next-gen my career 1st game?
A lot of players are complaining the error message on several social media sites including Twitter, and YouTube. Here are some examples:
"Every time I try to get on it, it keeps crashing @2KSupport".
"NBA 2K23 keeps crashing on my PS5 when I launch it or start my career. What is going on with the game?"
"Wow, @NBA2K is unplayable on my PS5, crashes every time I launch it now. What is happening? Can I get a refund, the game just won't play anymore. It was good for like 2 hours, but now it just keeps crashing. #nba2k23".
In this post, I will tell you why is NBA 2K23 crashing on PS5 and how to fix it.
Why is NBA 2K23 crashing on PS5?
NBA 2K23 is crashing on PS5 due to a bug.
The bug is affecting the players who have more than 100 blocked players through the PlayStation Network.
If you have blocked over 100 players, launching the game or starting your career will crash the game.
The issue is known to the NBA2K team and they are currently trying to fix it.
The team of the game stated that they will release a solution for it in a post-launch update.
How to Fix NBA 2K23 Crashing on PS5
How to fix NBA 2K23 crashing on PS5:
Firstly, press the PlayStation button.
Select "Game Base" on the bottom carousel.
Press the options button on "Friends".
Choose "Game Base" again.
Scroll to the right and select "Game Base Settings".
Now, select "Blocked Players".
Unblock players until your count of blocked players reaches less than 100.
If you have over 100 blocked players on the PlayStation network, the game will crash.
To fix it from crashing, the best way is to unblock everyone or unblock players until you have less than 100 blocked players.
This fix is temporary until the NBA2K team releases a fix for it as they stated, in the post-launch update.
To get updates about the fix, you can follow @NBA2K on Twitter for more updates.
What's Next
How to Fix NBA 2K22 Error Code 727e66ac
How to Fix "Couldn't complete your purchase" on Google Play Store
How to Fix "Looks like another app is blocking access to Google Play"
Arsalan Rauf is an entrepreneur, freelancer, creative writer, and also a fountainhead of Green Hat Expert. Additionally, he is also an eminent researcher of Blogging, SEO, Internet Marketing, Social Media, premium accounts, codes, links, tips and tricks, etc.