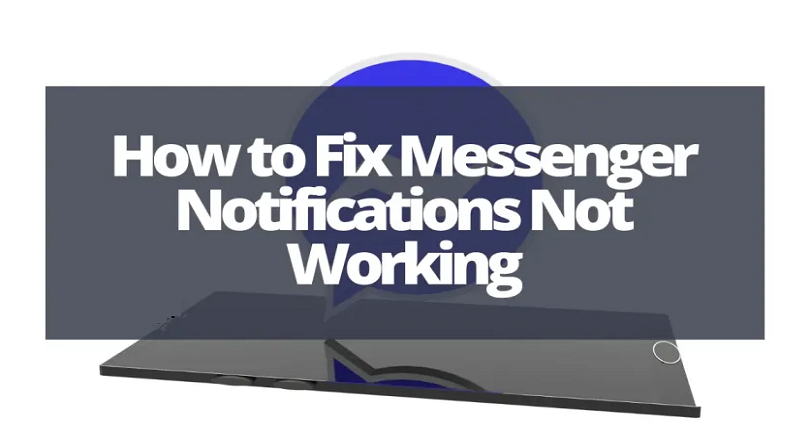 Are your Facebook Messenger Notifications not working and do you want to fix them?
If yes, you are in the right place.
In this case, you won't be able to receive notifications when someone sends you messages on the app.
One user stated that all of their notifications are on, but they are not working most of the time.
Another user told that they couldn't receive any messages.
The report also says that there is a notification bug.
In this post, I will tell you why your Facebook Messenger notifications are not working and how to fix it.
Why are my Messenger notifications not working?
Your Messenger notifications are not working because the notifications are turned off by you.
If your notifications are on but you're still not receiving them, it indicates that Facebook Messenger is down or there is a glitch.
If Facebook Messenger is down, you can do nothing to fix it from your end.
You can only wait for the Facebook engineering team to fix it, whether it is downtime or the bug.
This process may not take more than 24 hours.
You can come across bugs and glitches all the time on Messenger.
Luckily, the team of the Messenger app frequently sends updates to fix them.
How to fix Messenger notifications not working
To fix Messenger notifications not working, the first step is to ensure that your notifications are enabled.
If you didn't allow notifications for Facebook Messenger, as a result, you will not get message notifications.
However, if you enabled notifications but are still not getting them, it shows that FB is probably down or there's a glitch on the app.
In this case, you need to wait for Facebook to fix the issue from their side.
This process will not exceed more than 24 hours.
When the issue is resolved by them, an update will typically be released for the app.
Therefore, you need to go to the App Store or Google Play Store to check if Messenger has an update.
Method 1. Ensure that your notifications are enabled
Firstly, go to your Settings.
Scroll down and tap on "Messenger".
Now, select "Notifications".
Enable "Allow Notifications" to allow them.
After enabling the "Allow Notifications", the next thing is to force close Messenger.
Messenger will send you notifications whenever someone sends you a message.
If you've already enabled notifications for the app but you are unable to get them, it indicates that there is a bug on the application.
In this case, you need to go for the other two methods in this guide below.
Method 2. Check if Messenger is down
If the notifications on Messenger are already enabled but you still can't receive them, it indicates that the app is down.
There are two ways of checking it if the app is not up.
First of all, you can visit DownDetector and search for the term "Facebook Messenger".
After opening the "Facebook Messenger" page, you need to see the graph for it.
If the graph contains a spike, it shows that the Messenger app is down for everyone and not just you.
In this case, the best way is to wait for 24 hours for Facebook to fix the issue from their side.
Another method you can use to check if Messenger is down is to search for "Facebook Messenger Down" on Twitter.
After searching for it, check the top and latest tweets to see if there is a tweet about it.
You can also search for the specific issue that you're encountering on it (for example, Facebook Messenger not sending notifications).
If you come across a lot of tweets about it, it indicates that there's a global outage.
Method 3. Update Messenger
The last way is to check if you are on the latest version of Messenger.
However, some Messenger updates come with bugs and glitches.
If so, you will get a follow-up update from FB to fix them.
You want the updates that are the ones that are released with bug fixes and improvements.
After updating the app, open it and check if you can receive notifications or not,
If the update is not released, you have to wait for 24 to 48 hours for one.
You can also uninstall and reinstall messenger app instead of updating it.
This way, the app's cache will be removed and it'll be updated to the newest version.
Final Words
Facebook Messenger still contains glitches, bugs and crashing errors.
These bugs and glitches usually occur due to a new update.
In rare cases, it is caused by a server issue.
If there are a lot of users complaining or reporting about them, there will be a fix implemented from FB.
To eradicate the error from the app, you need to update it to the latest version.
What's Next
How to Recover Deleted Messages on Messenger
How to See Unsent Messages on Messenger
Arsalan Rauf is an entrepreneur, freelancer, creative writer, and also a fountainhead of Green Hat Expert. Additionally, he is also an eminent researcher of Blogging, SEO, Internet Marketing, Social Media, premium accounts, codes, links, tips and tricks, etc.