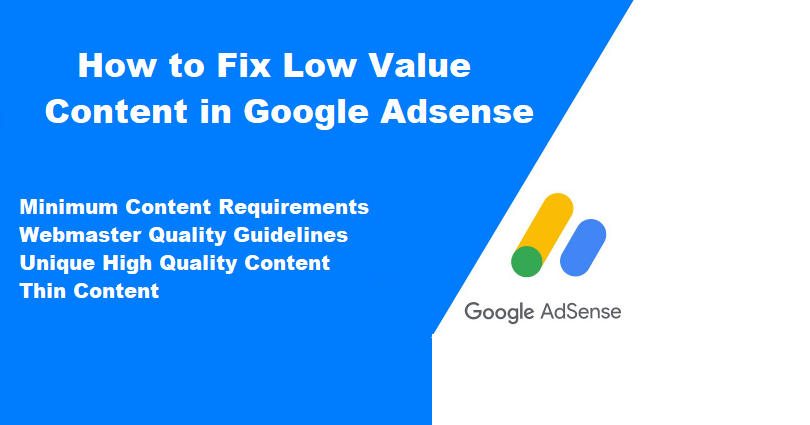 If you are a new website owner and recently applied for Google Adsense and you have got rejected due to a low-value content, you might be thinking about how to solve it.
In this article, I am going to give you some tips on how to fix low value content in Adsense and you will be able to get approved.
You can monetize your content easily by displaying ads on your website, and usually, it is the first priority for bloggers.
It does give preference to traffic but not all times.
A lot of users complain about getting disapproved by Google Adsense and the main reason behind it is "Low Value Content"
It will be heartbreaking if you get this rejection message in your Gmail after putting a lot of effort in your content.
Google gives you a Low-Value content error when your content does not provide value to the users and people will give preference to see ads if they are reading your blog post.
Many times, you may face rejection after putting a lot of research and effort to your content while writing it.
And the main cause of the rejection is still "Low Value Content" so how to solve Adsense low value content error from these tips.
After making these changes, you will be able to fix low value content error. I have come to know about it after disapproved from AdSense multiple times for my other websites.
Tips to fix Low-value content AdSense problem
After making these changes, you will be able to fix low-value content error. I have come to know about it after being disapproved by AdSense multiple times for my other websites.
1. Change The theme
There is no guarantee that if you use any specific theme, you will get approval from Adsense because every theme is different.
The first recommendation is to use a theme that is user-friendly as well as mobile-friendly.
Whatever the theme you are using, it should be mobile friendly and easy to navigate to provide a good user experience.
If you are seeking my advice, I prefer using generate press for this purpose. You can also use Astra theme on your blog but if you are not familiar with page builders, I prefer you use generate press.
The purpose of recommending it is that it is easy to use and it is a lightweight theme you can use to score 100/100 on page speed insights.
I cannot say that it is the last resort for you, but it is my suggestion to keep the user happy and it will make Google happy and you will be good to go.
2. Re-write old posts
After rejection, I have gone through all my posts to find out which articles are causing the rejection. After reading some of my blog posts, I came to know that they need to be updated.
So, some of my posts were not up to the mark and I updated 3 of my posts and added more value to it.
Google AdSense gives preference to high-quality and unique content, so, it is necessary to write content in such a way that it stands out among other blogs.
Low-value content can become a hurdle in your approval, so you should read the content as a reader to find out if it is satisfying the needs of a reader.
If it needs improvement or lacks anything, make sure that you add it and it will increase your chances of approval.
3. Try to Build Topical Authority
If you are focusing on any topic, try to add related posts to become a topical authority in your niche.
If you are writing 15 posts, you should be focused on the same topic in different ways. For instance, if you are making a blog on SEO, you should write about What is SEO, Mobile SEO, Voice Search SEO, and Google RankBrain etc.
This will help you to get rid of low value error in Adsense.
After that, you will find out that your website will not be rejected due to this error.
Another thing I want to tell you that is you do not have to write 50 posts to get approved by Google and even traffic is not the case.
The key to success is some unique, helpful, and in-depth articles.
Google also launched helpful content update for this purpose to prioritize the helpful content.
4. Change the logo
To make a website high quality and trustworthy in the eyes of Google, the best way is to build a brand and do it with an effective design. In my experience, the unique brand tends to perform better in this process.
For instance, my previous website did not have a professional logo and it was a handwritten design that has domain name on it, which lead to the error of low value in terms of approval.
So, I add a professional logo to the website and make it an official brand that improves its value in the eyes of approvers.
The new logo was designed to attract users as well as advertisers to my website.
In short, I think these changes boost the process and lead to the approval of AdSense in an easy way.
So, if you want to avoid low value content error in AdSense, you should focus on the brand name and site's design as well as logo to make it a user friendly and ads friendly so you get approval easily.
5. Categorized the posts properly
The next step you need to take is to categorize the post in their relevant categories in order to provide good user experience.
If your website contains user-friendly experience, it means you are giving preference to the users on which Google has been focused on is the positive signal for them to consider you in their program.
I am sure that this step impacts significantly in terms of approval because I give preference to it.
6. Fix website links
Another factor that can cause the error is the broken links and a lot of new bloggers do not give preference to broken links. As they forget to add link to menus, buttons and social media icons.
To find out, you need to perform site audit and I usually do it on a regular basis to find out the dead pages or broken links on my website.
You may face it if you have changed your theme. So, in this case, you need to check and make sure that every link on your website is functional. It is another positive sign to provide value to your content.
7. Fix Grammatical Mistakes
When it comes to English, I am an expert. But you may not be as good as native speakers. Many of you may not be good enough in English and may make errors in grammar.
So, after writing your content, you need to proofread them to avoid any grammatical or spelling errors and for this purpose, I prefer Grammarly. For the browser, you need Grammarly for Chrome.
After writing content, run it from Grammarly and it will find and suggest grammatical errors and even typo mistakes. If you have written a good piece of content and it lacks perfection, you will also get rejected.
Even if you are at home in English, it is my personal advice to check your content, proofread it through Grammarly, and after that, submit your application for AdSense.
That is it, these are the essential steps you need to take to fix low-value content in Adsense.
Related Read: How to get Adsense Approval Fast
Just keep in mind that the content is King and high-quality content is the key to approval.
Other than that, you should pay attention to some common factors before you apply for AdSense program. Let's see them.
If you are still struggling with Adsense, you can also check Adsense alternatives like Adsterra here.
Checklist before applying for Google Adsense
Just make sure that you have fulfilled these requirements before applying.
The first thing you need to ensure is that you add the necessary pages to your site which are "About " page, a "Contact Me" page, a "Privacy Policy" page, and a "Terms and Conditions" page.
Your site should be at least 1 month old, the older it is the better it is. The time period is to prove that you are not a churn and burn site.
You should publish useful/helpful content and it should be relevant to the niche that you are going to choose and I prefer to write informative content. Google AdSense gives preference to high-quality and informative content.
Add a main menu in your header to show the important pages. Before applying for it, make sure to add a menu.
A footer menu is also needed and every link should be real and related to the content.
Add relevant images to your posts, it will attract visitors as 10 percent of traffic comes from Google images and it should be interesting to attract the visitors.
Make sure that you write posts of at least more than 800 words. I personally prefer to write a post over 1000 words.
To add more weightage, it is wise to create a Facebook page, Twitter account or other social media profile for your blog and add their links to your website. This will not only engage the users but also improve your chances of approval.
If you are willing to add affiliate links to your blog, I prefer not to do that before approval. After approval, add affiliate disclosure on your website. You can also add them in your blog post in which you are going to add links.
The next step is to add Google Site Kit to your website, it will add your website to Google Search Console and your pages will be easily crawlable by Google.
Add a favicon to your site, this will be shown in your search results as well as give the site a professional look.
Create a professional-looking logo to build your brand.
Go through all your posts to see if there are any broken internal and external broken links.
Frequently Asked Questions
What is Low Value Content in Adsense?
If the content is unhelpful to the users and it has used obscene or profane language, duplicate or irrelevant content can be categorized as low-value content.
What is Good Quality Content in Adsense?
Content that provides a unique experience to its visitors. A better site with fewer pages will be more effective instead of a large website with poor-quality content. You have to provide enough articles on the website to show its identity (to determine what the site is about).
What are the benefits of Good quality content?
Good content attracts your visitors and they not only spend more time on your website but also return. If your content is good enough as compared to other sites, you will be in the good books. This will help your website to become more attractive in search engines over time. To keep your content in good condition, you need to update your content on a regular basis to keep it fresh.
What is bad quality content?
The bad quality content can be categorized as replicated, scraped, and duplicate content that does not attract visitors as much as the original content. It also causes a bad user experience.
How do you solve low-value content?
Write an article of at least 1000 words
Update it if there is anything outdated
Delete useless or obsolete content
Easy to navigate
Use bullets within your blog post
Upload relevant and copyright-free images
Add internal links where they are needed
Avoid duplicate content
Final Words
I hope that you will be able to solve Adsense low value content error after reading this guide. These steps are necessary to take into account in order to get approval.
I have different websites and I generally go through this process very often. After getting rejected many times, I have finalized the reasons why Adsense is rejecting for low-value content.
Am I missing anything? You can share your experience to fix this error in the comment section. you can also leave your questions related to Google AdSense and I will try to respond to them asap.
Arsalan Rauf is an entrepreneur, freelancer, creative writer, and also a fountainhead of Green Hat Expert. Additionally, he is also an eminent researcher of Blogging, SEO, Internet Marketing, Social Media, premium accounts, codes, links, tips and tricks, etc.