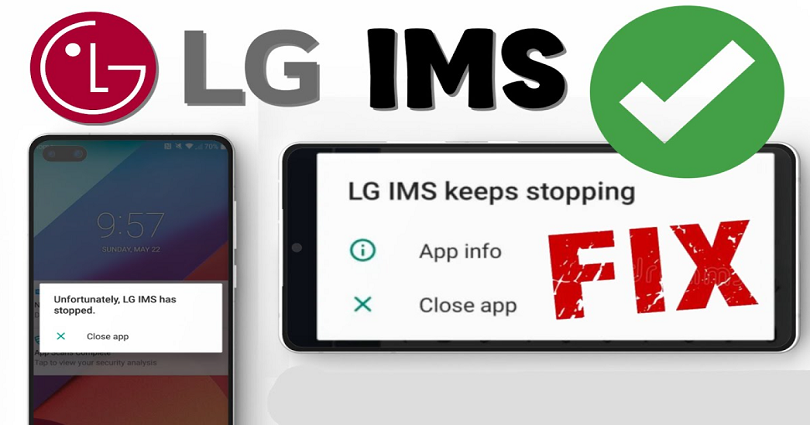 Are you getting an "LG IMS keeps stopping" error on your phone and do you want to fix it?
Here's the second different error message, "LG IMS Service has stopped".
Here's the third different example of the same error, "Unfortunately, LG IMS has stopped".
This year, many users are facing this error.
The IMS service is responsible for services such as text messages, multimedia messages, and phone calls.
The purpose of their services is to deliver them appropriately over an IP network system.
In this post, I will tell you why you're getting the "LG IMS keeps stopping" error and how to fix it.
Why am I getting the "LG IMS Service has stopped" error?
You're getting the "LG IMS Service has stopped" error on your phone because the IMS service is down.
This year, the IMS service was down for almost every user.
LG is aware of the issue and its team is trying to fix it.
To check if the IMS service is down, the error message can be used for search and you can search it on Twitter.
After searching for the issue on Twitter, check if anyone else is getting the same message.
Unfortunately, if the IMS service is down, you can do nothing about it and the only way to deal with it is to wait it out.
Here are some of the comments of the people who are facing this issue said:
"Glad to know It's happening to us all that makes me feel at least a little better".
"We are collectively experiencing the same issue…it's a network issue".
"We're all going through this the same day and time".
"Talked to T-Mobile rep. She said they received a lot of calls about this. I called LG and a recording stated that it should be fixed within 24 hrs."
As you can see, there are a lot of people who are facing the same issue with the LG IMS service.
If the service isn't down, there is another way to fix it by factory resetting your phone or removing recently installed applications.
However, since the IMS service is down globally, I recommend do not do it.
Unfortunately, you cannot get rid of the service as it is automatically added in Samsung devices.
It's a necessary thing for your phone's services to work properly.
If you remove the service from your phone, you will not be able to use VoLTE or Wi-Fi calling.
How to Fix "LG IMS keeps stopping"
To fix "LG IMS keeps stopping", the best is to wait for LG's engineering team to resolve the problem.
In the meantime, you can contact LG support to get assistance.
To contact LG support using the chat service here is the direct URL: https://www.lg.com/eg_en/support/contact/chat-service.
The process may redirect you to WhatsApp, so if you're on a PC, you need to download WhatsApp for Windows/Mac.
Their working hours for chat are Saturday to Friday from 9 AM to 10 PM.
Currently, they might be getting many requests so you may have to wait for hours to get in touch.
You can face this if one of their services is not working including the IMS service.
As per LG support, the IMS service is down.
Here's the statement of LG support, "Hi, we are experiencing an extremely long wait time due to inquires for the IMS error message on carriers' devices".
Along with, "Currently we are unable to resolve the issue over the phone and are working hard to identify the root cause and solution".
The ending of the message is, "If your inquiry is for the IMS error message, please disconnect and contact us back on Monday if your problem persists. We are truly sorry for the inconvenience this issue has caused you and will relentlessly work to resolve the issue quickly".
The problem is related to T-Mobile and LG, so you need to be patient until they resolve the issue on their end.
I do not recommend you factory reset your phone because it will not resolve the issue.
What's Next
How to Fix "Server was unreachable for too long" on Omegle
How to Fix Google Search Results Change or Disappear After a Second
Arsalan Rauf is an entrepreneur, freelancer, creative writer, and also a fountainhead of Green Hat Expert. Additionally, he is also an eminent researcher of Blogging, SEO, Internet Marketing, Social Media, premium accounts, codes, links, tips and tricks, etc.