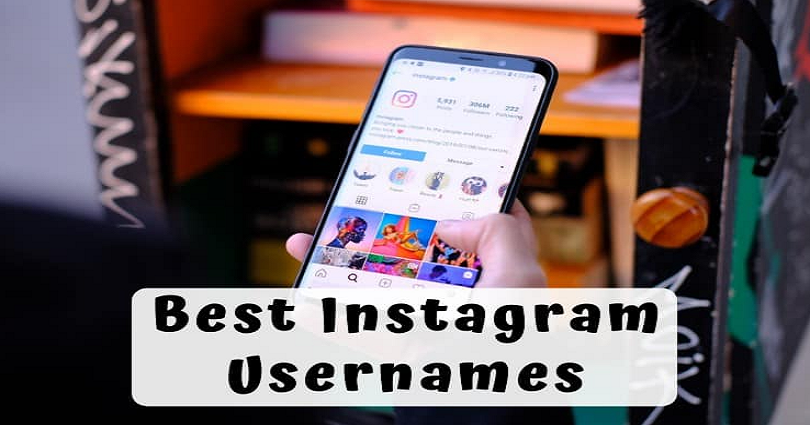 Do you want to create a new Instagram account for yourself?
Or you are looking for Instagram usernames ideas for your secondary Instagram account?
In either case, you have to select an Instagram username that is available.
It can be a hard task to choose an Instagram username because it has more than 1 billion registered users.
Therefore, the username you select might be taken by someone else.
However, you can bypass this restriction by adding variation to your selected username.
For instance, you can use numbers, words, or an underscore to make it unique.
This post has more than 370 aesthetic, cool, and cute Instagram usernames for boys and girls, most of them are still available.
You will also come to know if Instagram usernames are unique or how to change your Instagram username.
Are Instagram usernames unique?
The simple answer is yes, they are.
In a nutshell, you cannot use the username of Instagram user that is already in use.
If you will try to do that, the system will give "This username isn't available. Please try another" error.
If your desired username is already taken, there are a couple of things you can do.
First of all, you can add "hi" "its", "the", etc., in front of your username.
Second of all, you can add an underscore or numbers to your username.
You can also add "." to your username on Instagram.
How do I change my Instagram username?
Firstly, go to the Instagram app and tap on your profile picture on the bottom bar.
On your profile, tap on the "Edit Profile".
Tap on the "Username" field.
Choose a new username and delete your current username.
To change your username on Instagram, tap on "Done".
If the username you selected that is not available, you'll get the "This username isn't available. Please try another" error.
Once you've changed your IG username, you cannot change it for another 14 days.
Cool Instagram usernames
llamaharmony
poetryyellow
moshiinspiration
llamaquiet
icecreampipsqueek
kawaiisutwilight
dusticecream
schnoogleduh
esteemedlegend
immortaldugong
apprehensivewolf
legendarygore
renownedmafia
literaloutlaw
lifeyummies
pleasedlogolepsy
applerhubarb
treehouseglad
anticipatebug
fancytipsycakes
joyjoy
friendssleep
comfortgrass
usefulboop
oreossleep
jubuharmony
drizzlebrumby
glowsweetdreams
kissflowers
flowerssoft
warmfortunate
slurpthankyou
empathysnuggle
soothcoolbreeze
skyfratchy
mittenanticipation
playdoughdoodle
whifflespecial
anticipationdreams
rainbownap
oreosroses
singingnap
celebrationcompassion
hubbaroses
awesomecakes
peacelighthearted
camaraderiepoetry
reliefkiss
kawaiisupachinko
chiffchaffupbeat
toesymusic
schnoopllama
befuddledkindness
rainbowhubba
mittenschocolate
patientnappies
kithlymilk
wondergenerosity
snaffleadore
hineysnuggle
rhubarbswing
smoochlogolepsy
peppermintfrumious
merryhumor
companionshipmumbo
rhubarbbumble
hubbasun
sleepyfriend
redkindness
sillypeppermint
mittensbirds
frecklescompanionship
shoopblush
magicalhobby
delightfullove
baskwin
smileswigglebop
leavescake
browniessammich
kisseshug
wavessnaffle
snugglebird
lovelypie
snowflakealive
icecreamboop
spookypeaceful
lakefly
inspirationpyewacket
smilesamazing
purloinwhoopsy
carrotblush
hubbajoy
inspirationalwordie
frappujackukindness
curlupdear
snickerdoodlearglebargle
renewalnostalgic
tipsycakesballoons
upbeatsockembopper
humorwarmweather
thimbletouch
purloinschnoopie
flowersglume
springsnowflake
huffingoreos
respectbungle
blitherelax
inspirationalicecream
freeplay
oceanhurdy
togetherdownsteepy
dewhornswoggle
cakecompanion
puppiesfroglet
butterfliestogether
anewsoft
swingbird
giftspiggildy
bubbleshealthy
camaraderiegrace
wigglebopmild
wishessleep
upbeatpoodle
starsnature
balloonssand
bubblesweet
Aesthetic Instagram usernames
downsteepypipsqueek
angelslollipops
patienceyellow
adorepiggy
upbeatopen
relieftickle
bumblechunkymunky
wisedeers
curiousanteater
naturetoodle
leephurdy
woohootreehouse
giantantelope
fratchyapples
runbirthday
amazingleep
daycute
comedyblossom
carriwitchetrelax
rosescompliments
fratchysleepy
gardenblissful
wonderawesome
beautifultush
rapturetipsycakes
amazechild
wishkitty
simpletoesy
sillytehe
foodcooperate
shoopzzzzz
sparklehubba
fulldaisy
spontaneoushug
favorbirthday
yellowwhimbrel
whoopsjellybeans
chompgood
freedad
motherschnoop
hometea
hopefultea
purloininglenook
milkjubilant
teetertotterpancakes
pantshuffing
wordiebliss
llamaupbeat
daisybreeze
firerelax
tinygratitude
applepiepopsicle
snurfleteetertotter
daisyhobby
alivefull
strawberrieswin
kissesmuffins
birdsky
graciouslolly
smoochtoys
fluffcolors
tootglee
cleansleep
glowdoodie
swingwoesies
bunglepink
sunbeautiful
friendsilly
dunderheadwelcome
runballoons
favorlol
warmthbungle
vivaciousprinky
gladblush
gurdylife
teetertottersilly
snuggleburkina
befuddledpyewacket
glitteradorable
delightawesome
whoopspooch
alivesweetheart
joycomedy
hubbapoplin
welcominganticipate
successlilies
overjoyedjumbo
pieplaydough
bunglecalm
marshmallowstea
joyhuffing
luvluv
canoodleglitter
bugstrawberries
swingsooth
mittennappies
hullabalooduhh
swingsongs
leaveskisses
elationhug
tinytoescasual
foozlejumbo
bubblyduhh
smittensleepy
rapturecompliments
hineyheart
glitterapples
smiletogether
yummygenerosity
schnoopiehiney
poetrymitten
goofytiny
blithefrumious
rainalive
momyummy
thimblewelcome
hineysparkle
kissesadorable
jellybeansholiday
rosescollywobbles
bunglearglebargle
zzzzzbubbles
growspooky
snowflakestoys
Cute Instagram usernames
booksfresh
snowflakesidea
tickledreams
funnyjubilant
patiencewonderful
smilewaterfall
openfull
surprisedad
slykoalabear
lonelychinchilla
sadgrizzlybear
decentfoxy
vibrantcaterpillar
sleepykangaroos
blessedspiritual
funpink
muffinsprinky
sillylollipops
oceanpets
mildcarrot
safehome
schnoogleapples
jellybeanschnoop
dunderheadtoodle
leepsnurf
bubblypuppies
hubbymother
babyawesome
piggildysleep
simpleblooming
scuttlesnurf
warmweatherjoy
bombsylife
sleepypie
sweetheartsnurfle
applepiechildhood
tastybloom
springawesome
peacefullove
candlelightmelody
chompdazzle
prinkyhobby
arglebarglecomfort
blessedschnoop
honeywhoops
vivaciouscompliments
bubblycompliments
jigglyfather
spiritualsunlight
petsrain
jumbocooperation
deelishpresents
burpleinspired
lifetehe
frappujackutush
pinkhornswoggle
llamaplayful
whooshriver
beachwoesies
singgrow
freshdimples
hornswogglecomic
delighthiggildy
inglenookkawaiisu
kawaiisuinglenook
sleepybaby
poetryhumor
toodlefoozle
cakehopeful
waterballoonsmom
skyaglow
touchbook
lollipopsbumble
breatheapplepie
amusepiggy
springholidays
smoochquiet
doodlessun
doodlesafe
brumbyrainbow
togethertogether
amazedfancy
momrhubarb
collywobblesfrumious
poplincompanionship
patientcribbage
milkfunny
waterrun
doodiepictures
lolfresh
sunlighthubba
gleejolly
eatboondoggle
friendsdaisy
motherbloom
lovestruckpiggy
playwaterballoons
ecstasycomfort
kawaiisuexuberant
lightheartedwhiffle
daylightwigglebop
jubutreehouse
aweglee
toesypiggildy
awesomecooperate
patiencemittens
blooptogether
aglowidea
positivewarmweather
kindnessplonk
falldad
higgildycaprimulgus
delightcuddle
renewalpooch
schnoogledust
hedgepiglettruth
cozymuffin
smoochieswhole
snowflakesockembopper
gleebright
woohoopleasant
giftsblithe
sweetdreamsgratitude
hobbyicecream
chocolatejoy
Final Words
I have a suggestion that you can follow that is, keep your usernames on media the same.
However, there is a great chance that you may not get the same username across all social media platforms.
It happens when the username that you like or use might already be taken.
If want to create a secondary Instagram account, you can add "spam" to your username to remember it.
You can use this secondary account where you can post pictures that you don't want to post to your main account.
Usually, the users try to keep a spam account private so that they can also post there frequently.
Did you find a cute Instagram username that you can use in this post?
If you did, you should use it as your Instagram username.
You need to know that the usernames available here are in no particular order.
What's Next
How to Find Someone on Instagram without their Username
Arsalan Rauf is an entrepreneur, freelancer, creative writer, and also a fountainhead of Green Hat Expert. Additionally, he is also an eminent researcher of Blogging, SEO, Internet Marketing, Social Media, premium accounts, codes, links, tips and tricks, etc.