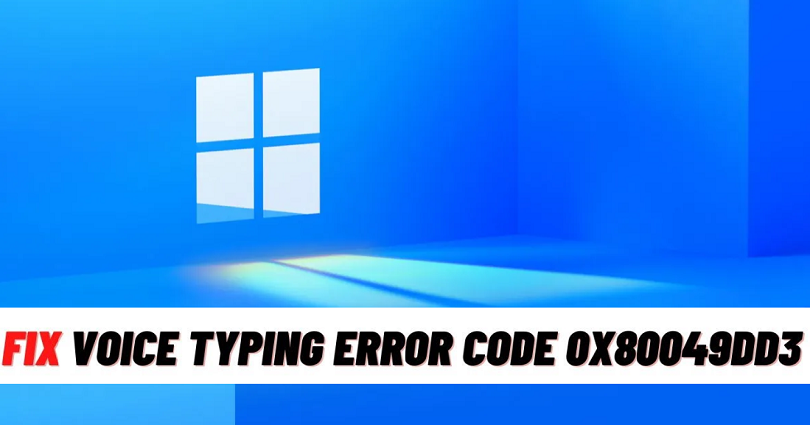 Are you facing a "Something went wrong" or "Please try again later" error on Windows 10/11?
The error code is, "0x80049dd3" or "ca33bb14-c113-001-13fe-50ca13c1d801".
You get the error message when you try to type from your voice (voice-typing).
A lot of users are reporting the issue on forums including Reddit and the Microsoft Community. Here are some examples:
"When I try to use my MIC for speech to text, I keep getting this message and the message box "locks up" on screen!".
"I've been trying to figure out how to get my microphone to start working again. It stopped working out of the blue."
In this post, I will guide you on how to fix "0x80049dd3" for the text-to-speech/voice-typing feature on Windows.
How to Fix Something Went Wrong "0x80049dd3" on Windows
How to fix "0x80049dd3" on Windows
Go to your computer settings.
Select "Accounts".
Select "Family & other users".
Now, click on "Add account" under "Other users".
Add/create a new user for your PC.
Change the account type of the new user to "Administrator".
Move to the new account.
You have to create a new administrator account and switch to it in order to bypass the error.
After moving to a new account, it will fix the "0x80049dd3" error and the "Win+H" Windows speech-to-text feature will work.
Just remember that this is a temporary solution for the error code.
Currently, the Microsoft team is working on a fix to resolve the code.
You might get the fix in the next update.
Several users are facing the error message and report it on forums.
An answer by Microsoft Agent is, "Regarding the issue of using MIC for speech-to-text, we have submitted feedback on this issue. You can continue to follow this thread. Follow-up progress will be posted here. Thank you for your patience and cooperation".
Another user stated that "It's a glitch because many people are complaining about the same error".
If you don't want to create a new user, the best bet is to wait until Microsoft fixes the bug from their end.
What's Next
How to Fix KB5016691 Update Not Installing on Windows 11
How to Fix "VMProtectSDK32.dll is Missing"
How to Fix "Looks like another app is blocking access to Google Play"
Arsalan Rauf is an entrepreneur, freelancer, creative writer, and also a fountainhead of Green Hat Expert. Additionally, he is also an eminent researcher of Blogging, SEO, Internet Marketing, Social Media, premium accounts, codes, links, tips and tricks, etc.