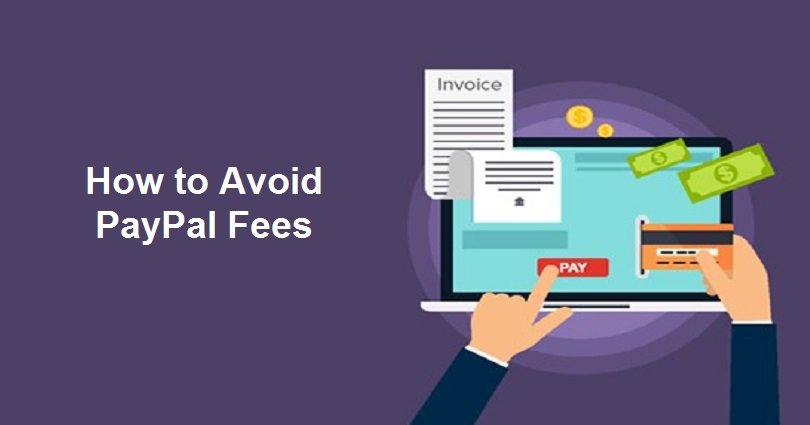 How to Avoid PayPal Fees
At the end of every year, people usually review their past 12 months to observe their spending habits and net worth etc.
In my opinion, it is necessary to take your personal finance matters into consideration in general month-to-month tracking.
There are 2 reasons of doing that:
You can observe the financial well-being whether it is positive or negative.
To track the income you generate from your work to encourage yourself.
After going through the past transactions of 1 year, I have come to know about shockingly wastage of money: I wasted about 110$ in PayPal fees in 2020.
You may have experience this incident, that is why I am writing this guide. I do not want to make it worse every coming year.
If you send money from PayPal on daily or hourly basis it is a big deal. So, you need to know the methods of how to save PayPal fees to save some money.
This article is on:
How PayPal Fees Work
How to Avoid PayPal Fees
Alternative payment methods that you can consider or use
Let's start.
PayPal Fees Explained:
PayPal Business Account Fees:
The fees of PayPal depends on different factors including the type of account of PayPal, the currency you are dealing in, and the purpose of transaction etc.
If you are using PayPal as a payment gateway in your online business, you need to open a PayPal Business account.
PayPal business accounts consist of monthly costs and merchant fees. This type of account can be divided into Standard and pro plans: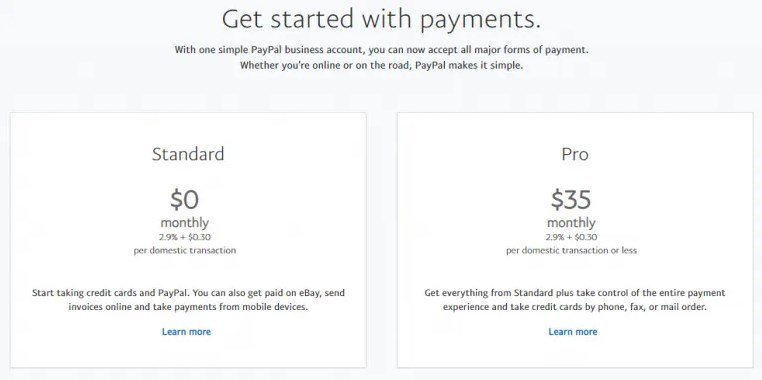 As a merchant, if the payment you get from a PayPal account in Canada, the fee for this transaction is 2.9% of the amount + 0.30$ CAD.
If the money you receive from a PayPal account in the United States, the fee for this transaction is 3.7% of the amount + 0.30$ USD.
Apart from USA and Canada, if your sender is from any other country, you have to pay fee of 3.9% of the amount along with a fixed fee based on the currency.
PayPal Personal Account Fees:
If you are a user of personal PayPal account in order to receive the payments from your job, you may have to pay PayPal fees to get the job done.
Personal PayPal accounts come with different fee structures keeping in view your country of residence, but I am going to discuss the US based PayPal fee information for personal accounts.
For United States personal PayPal accounts:
Buying is free of cost if it is within the US (same is the case in Canada).
Sending money is free if the transfer is made by your bank account linke to your PayPal account or PayPal balance (you will be charged 2.9% plus a fixed fee if payment is made using a credit/debit card or PayPal credit).
Money Transfer from your PayPal account to your linked bank account is free of cost, however, instant transfers charge 1% of the amount transferred up to a maximum of $10.
PayPal payment method also charges a currency conversion fee in such cases:
When you buy goods sold in a currency your personal account does not have in the account.
Secondly, when you send money in a currency that you do not have in the account.
When you try to receive payment in a currency your PayPal account is not configured to accept.
When you withdraw payment to your linked bank account that is in a different currency than your bank holds.
The conversion fee of PayPal currency is 3.0% for U.S as well as Canadian dollars and it charges 3.5% for all other currencies than US and Canadian. The base exchange rate depends on the rates from the wholesale currency markets on the payment day or prior to one business day based on the time of the payment made.
How to Avoid PayPal Fees
The strategies you can use to avoid PayPal fees will be different in terms of types of accounts, so I am going to discuss some actionable tips for personal as well as business accounts.
Method 1: Change Payment Structure/Frequency
If you are running an online business such as a dropshipping business to sell one-time items to the customers, this strategy will not work for you to avoid PayPal fees.
However, if you are running a business model that charges the consumers for repeated services such as coaching, consulting work and subscriptions, you can save plenty of money by changing the payment model.
For example, if your customers are paying using PayPal payment gateway on a weekly or bi-weekly basis for the services, shift them to a monthly payment schedule, in this way, you will be able to reduce the times you are charged a $0.30 transaction fee.
I agree it doesn't seem to be enough, but if you have a high amount of transactions it can result in decent savings right?
Method 2: How to Avoid PayPal Fees When Sending Money
The answer is to use the PayPal friends and family option. PayPal friends and family payments is another option that handles the transactions differently as compared with normal transactions.
According to PayPal: "If the request is for goods and services, invoice fees are only 2.9% + $0.30 per paid request.* If you're requesting money from friends & family on our app or using PayPal online, it's free to receive money."
If you are a business owner or a freelancer, you need to make sure that your clients are completely comfortable if you are using this option and that you have been making transactions for a while.
The buyers can lose the protection of their payments if they will send money using this option of friend and family, so using this trick to avoid PayPal fees can be a hard task if the client is new. However, you can split the 2.9% fee with the client to convince him to use PayPal friends and family feature.
Method 3: Claim PayPal Fees on your Tax Return:
If you are paying PayPal fees as a business holder, you can claim the fees in the tax return, it is because they are the inevitable cost of your business dealings.
All you have to do is to maintain the document of your amounts you pay in PayPal fees throughout the whole year, it can take a while if you process a plenty of transactions using this payment method.
Method 4: Plan your Cash Flow Needs in Advance
You can withdraw your payment or PayPal funds to your linked bank account without paying any fees. However, if you try to make an instant transfer, you need to pay 1% of the total transaction up to $10.
One of the easiest and simplest ways to avoid PayPal fees is to have patient, plan your cash flow needs in advance. Avoid using instant transfer option to withdraw money to your bank account (it means use the normal withdrawal method).
Method 5: Open a New Bank Account (Especially if you're Canadian):
The main way I paid PayPal fees when I moved US dollars from PayPal account to the linked bank account (Canadian).
Making money online or freelancing can be an international matter, you are more likely to deal with a currency that is not your native currency. Eventually, you have to go through this if you work online.
If you are from outside of US, this tip will be a helpful way to avoid PayPal fees (since the great deal of online transactions use US dollars).
There are a number of zero-fee or low fee bank account options available for Canadians looking to open a new US bank account, so my friend tried to open a new account so he can connect PayPal account to the bank that can handle US dollars transactions because he was getting paid in USD.
If you get paid in a lot of US dollars for your job, I highly suggest to open a US bank account if you want to avoid paying PayPal fees on currency conversions.
Method 6: Plan Ahead with Pricing:
If you are getting paid through PayPal payments for most of the online work, you should consider determining your pricing, how you price the services you provide.
Just calculate the PayPal fees in the back of your mind when setting the pricing features.
This is especially helpful when you are going to begin flipping items on Ebay, it means you need to consider how to avoid PayPal fees on eBay and PayPal in your margin calculations.
Method 7: Ask To Be Paid In A Specific Currency
The first way to avoid paying PayPal fee on foreign currency conversions to simply state in the offer that you need to get paid in the native currency.
For example, if you hire a freelancer for search engine optimization or web development, they will request the money in USD. It is quite common.
Method 8: Apply For Micropayments
If you are receiving payments frequently for less than $10 on PayPal, it is a sane thing to sign up for a micropayment model of PayPal. It will not fully avoid PayPal fees but it will save some.
It is an ideal choice for merchants performing a serious amount of low cost transactions. As a merchant, you need to pay 5% fee on the transactions for United States customers and 6.5% for international consumers.
You need to apply for this option, and while applying for it, your PayPal account should be in good standing. However, paying a micropayment fee makes more sense as compared with 2.9% + $0.30 for each transaction on every deal.
Method 9: Use Harvest & PayPal Business Payments
If you are dealing with invoices on a frequent basis whether you are a freelancer or business owner, the use of Harvest enables you to organize your payments with fewer PayPal fees.
In addition, it also allows you to invoice clients with ease, track ongoing projects, manage the expenses and save money too. It is very easy task to integrated it to PayPal and manage your outgoing and incoming invoices, the process can also save you money.
Setting up the PayPal business payments using Harvest, you will be charged a fixed fee of $0.50 per transaction instead of the regular percentage base fee. It is a good deal not only for freelancers but also for businesses. It is because it keeps more money in your pocket not in PayPal.
Harvest offers 30 day free trial and the free version also supports up to 2 projects for free of cost. The paid version of Harvest gives access for unlimited users and projects, it costs $10.80 when billed annually (otherwise it costs $12 monthly).
If you are looking for trick to avoid PayPal fees, making business payments with the help of invoicing software Harvest is the easy way to proceed.
Method 10: Use PayPal Alternatives
There are a number of payment methods available besides PayPal, you can also use them if they fulfill your requirements.
Some useful alternatives to PayPal are:
Payoneer: It is a helpful alternative, it offers a Payoneer debit card, you need to pay annual fee and fees on withdrawal to another bank account.
Wire Transfer: It is an ideal choice to send international transfers in multiple currencies (using bank transfer).
Stripe: It is another site like PayPal to consider and you need to open an account to use it. People like it and it can be helpful to withdraw your money from Medium. It has the ability to deposit money automatically to your bank account and the fees are similar to PayPal method.
Dwolla: It charges a $0.25 transaction fee on any amount that is over $10, but making bank transfer is an easy and simple task with this option. It is functional in US only and both the receiver and the sender need to have Dwolla for transactions.
Skrill: It is like PayPal, except it can transfer money incredibly quickly to the debit card offered by Skrill.
4 Ways to Avoid PayPal Fees for Receiving Money
People also want to avoid PayPal fees when receiving money and PayPal also charges fees to receive payments.
Even housing retailers that accept credit cards have to pay a percentage to American express, mastercard, each time a consumer uses one of the cards. If you are a freelancer or entrepreneur, you cannot bear the fees on your income, it can be a major hit.
Luckily, there are several ways to avoid or cut down PayPal fees. Here are some of the methods to know why should you use them and why shouldn't.
Tip 1: List PayPal Fees as a Billable Expense
The legit way to get rid of PayPal fees for receiving money is to pass them as a billable expense.
Whether you are a freelancer or a small business owner, billable expenses are costs contractually pass on to the client, the fee is included in the final invoice. It means the client will pay the transaction fee instead of you.
Tip 2: Receive Fewer Payments
This trick is also effective but only to an extent, by receiving fewer payments, you can avoid the fixed PayPal fees every time. If you want to save every cent, this tip will enable you to avoid some of the PayPal fees.
Tip 3: Request Clients to Pay as a Friend and Family
In this method, you will know how to avoid PayPal fees using friends and family. This method is allows you to pay zero fees with PayPal, it is useful for freelancers and small business owners.
Note: You can use this method for some transactions, if you try to use it for every transaction, PayPal may catch you and it is likely to terminate your account.
Tip 4: Use PayPal Fees as a Business Expense
As we have already given the tip that you can pass on the fees to the clients as a billable expense, but you can also use PayPal fees as a business expense on your tax sheet.
Conclusion
In the end, losing 100-200$ a year on PayPal fees may not seem the end of the world as long as your business is profitable and you are earning a good amount of money.
But why give away these dollars too?
I think after going through this post you have learned how to avoid PayPal fees when sending money or when receiving money. You can save thousands of dollars with our tricks to avoid PayPal fees and you can invest them into your business or invest it somewhere else or you can grow the savings.
None of these strategies are difficult to implement but we did our best to provide you the best ways to get rid of PayPal fees or cut off some.
Am I missing anything? Feel free to share it in the comment section.
That's it for this post, share it with other PayPal users so they can also learn about it.
Arsalan Rauf is an entrepreneur, freelancer, creative writer, and also a fountainhead of Green Hat Expert. Additionally, he is also an eminent researcher of Blogging, SEO, Internet Marketing, Social Media, premium accounts, codes, links, tips and tricks, etc.