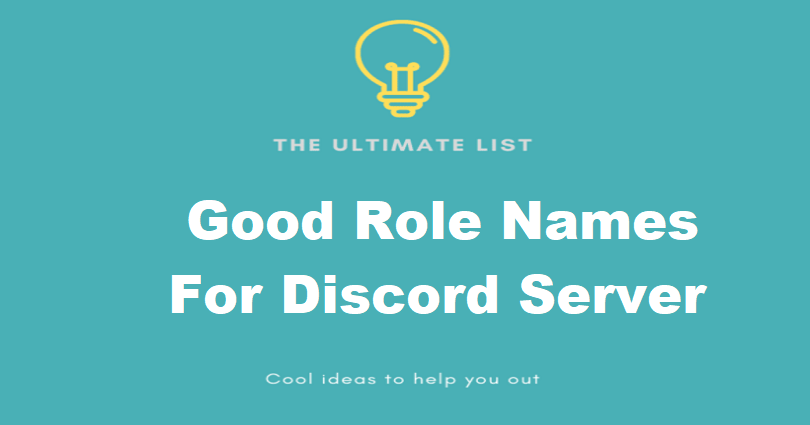 Do you have a Discord server? If yes, then you need to create roles for it.
The roles enable you to organize the server the way you want it.
For example, if there are staff members, you can add a "Mod" role there.
The same is the case if you have a co-owner, you can come with a "Co-Owner" role as well.
By default, the discord server contains members that has an "@everyone" role.
This default role contains standard permissions such as sending messages, viewing channels and creating invites etc.
However, you can edit the role of the members to disable and enable certain permissions.
This post has more than 340 simple, good and aesthetic role names and role ideas for your discord server. You can go through the list below.
What do roles mean on Discord?
Roles enable you to organize the server members the way you want them and customize their permission too.
For instance, if there are staff members, you can assign roles to them, you can create an "Admin" and a "Mod" role.
The permissions can be customized for each role.
Typically, the role of "Admin" will have more permissions or authority as compared to a "Mod" role.
The "Mod" role has the permission to kick the members out.
Alternatively, the "Admin" role comes with a permission to kick as well as ban members.
There are some other permissions that can be allowed such as managing webhooks and viewing server insights.
After creating a role, the role can be manually assigned to the members.
How do I add color roles on Discord?
You need to visit your server settings to add color roles on Discord.
Once navigate to your server settings, click on "Roles", and click on the role that you want to edit.
There will be a "Role Color" section on the "Display" tab.
Choose the color on the "Role Color" section that you want to add to the role.
In the end, click on "Save changes" to save your changes.
If a member gets a "Mod" role and the color of the role is green, the green color will also be applied to their name as well.
In short, the color of member's name is linked to the color of their role.
Good role names for your Discord server
Admin
Owner
Co-Owner
Staff
VIP
MVP
Male
Female
Head Admin
Head Mod
Mod
Assistant Mod
Helper
Knight
Eternal
Immortal
Lord
Duke
Duchess
Titan
Queen
Elite
Overlord
Angel
Ultra
Hero
Premium
Enhanced
Paladin
Legend
Princess
Prince
King
Demon
Master
Mythic
Wood
Iron
Bronze
Silver
Gold
Sailing Master
Gunner
Powder Monkey
Boatswain
Surgeons
Cooks
Housemen
Rustic Warrior
Platinum
Diamond
Radiant
Guardian
Primal
Master
Captain
First Mate
Quartermaster
Bannermen
Verified
Unverified
Viewer
Active Viewer
Good Viewer
Ace Viewer
YouTuber
Streamer
Patreons
Support
Muted
Veteran
Trial Mod
Suspended
Community Helper
Former Staff
Enemy
Gamer
Pro Gamer
Epic Gamer
Legendary Gamer
Guest
Subscriber
Developers
Partners
Voter
Ranged
Mage
Wizard
Human
Secretary
Newcomer
Artist
Manager
Honey
Trainee
Friends
Rose Pink
American Rose
Poppy
Giveaway Host
Customer
Vampire
Sweetheart
Cutie
Lovely
Trusted
Bookworms
Orchid
Dahlia
Rose Red
Hydrangea
Sweat Pea
Peony
Duron Dahlia
Lilac
Florist
Millionaire
Dark Red
Pink
Ligh Pink
Hot Pink
Deep Pink
Lavender
Violet
DMs Open
DMs Closed
Stars
Moons
Founder
Co-Founder
Light Coral
Salmon
Dark Salmon
Light Salmon
Crimson
Game Night
Movie Night
Oceania
North America
South America
Europe
Asia
Australia
Africa
Station Chef
Junior Chef
Kitchen Porter
Purchasing Manager
Junior
Senior
CEO
Server Booster
Active Customers
Trusted Customers
Appreciated Customers
Lovely Customers
Special Customers
GMT
PST
CST
MST
AST
EST
Executive Chef
Head Chef
Deputy Chef
COO
CFO
CTO
President
Vice President
Director
Freelancers
Accountant
Ancient
Immunes
Discens
Generals
Commanders
Chi
Earl
Countess
Baron
Baroness
Honorable
Rising Star
Storyteller
Expert
Valuable
Centurions
Aquilifer
Signifer
Tesserarius
Coding
Studying
Singing
Dancing
Cooking
Ambivert
Introvert
Extrovert
Crew
Baskery Assistant
Chocolatier
Cake decorator
Pastry Cook
Bakery Manager
Candy Maker
Active Crew
Special Crew
Crew Master
Archaeologist
Navigator
Dough maker
Bakery clerk
Cashier
Fryer
Cookie Icer
Bagel Maker
Pie Maker
Mentors
Mentees
Hellhound
Reaper
Harvester
゜.Mods・゜
゜.Admins・゜
゜.Members・゜
✎___ ‹ CEO ›
Notable VIP
Boosted VIP
Coordinator
Giveaway Winner
Super Active
Extremely Active
Insanely Active
゜.Owner・゜
゜.Co-owner(s)・゜
゜.Friends! ・゜
⸙Server Staff⸙
߹Verified 18+߹
⸙Affiliate⸙
⸙Trusted⸙
【☆】 ┆Admin
【☆】 ┆Mod
?✧・゚: * ♡┆Cotton Candy
?✧・゚: * ♡┆Dragon Fruit
?✧・゚: * ♡┆Strawberry
?✧・゚: * ♡┆Blood Orange
?✧・゚: * ♡┆Orange
?✧・゚: * ♡┆Pineapple
?✧・゚: * ♡┆Lemon
?✧・゚: * ♡┆Lime
?Owner
?Co-owner(s)
?Mods
?Admins
?Members
⌁﹒owner
⌁﹒booster
⌁﹒member
⌁﹒bots
?✧・゚: * ♡┆Sour Apple
?✧・゚: * ♡┆Blueberry
?✧・゚: * ♡┆Blue Raspberry
?✧・゚: * ♡┆Grape
?✧・゚: * ♡┆Plum
?✧・゚: * ♡┆Vanilla
?✧・゚: * ♡┆Chocolate
?✧・゚: * ♡┆Fudge
**✿❀Number One❀✿**
「?」┆Artist
⌁﹒18+
⌁﹒staff
⌁﹒mod
⌁﹒trial mod
⌁﹒admin
⌁﹒partner
⌁﹒event winner
⌁﹒trusted
ʚ owner ɞ
ʚ admin ɞ
ʚ moderators ɞ
ʚ staff ɞ
ꔫ?❛❛ Owner ₊˚♡¸
₍ᐢ..ᐢ₎ Co-Owner ?₊˚੭
‧₊˚⊹ Admin ?﹕✦
₊˚໒ Trial Mod ୭₊˚
₊˚⌇ ? Mod ੭₊˚
₊˚ʚ?┋Ownersie
₊˚ʚ?┋Staffie
₊˚ʚ?┋Partners
₊˚ʚ?┋Friendsie
₊˚ʚ?┋Membersie
₊˚ʚ?┋Botsie
꒰ ♡ Colors ✧˖*°࿐
꒰ ?꒱ Strawberry
꒰ ?꒱ Blossom
꒰ ?꒱ Cake
꒰ ?꒱ Cookie
꒰ ?꒱ Chocolate
˚₊‧︶꒷꒦ ❝ ownerᵎ ❜ ୧ ⊹₊꒷
˚₊‧︶꒷꒦ ❝ adminᵎ ❜ ୧ ⊹₊꒷
˚₊‧︶꒷꒦ ❝ moderatorᵎ ❜ ୧ ⊹₊꒷
˚₊‧︶꒷꒦ ❝ memberᵎ ❜ ୧ ⊹₊꒷
✦₊˚ଘ Sweetie ෆ₊˚
₊˚໒ Staff ୭₊˚
ᘏ-Owner-ᘏ
ᘏ-Co-Owner-ᘏ
ᘏ-Head Admin-ᘏ
ᘏ-Admins-ᘏ
ᘏ-Mods-ᘏ
↶Founder;✧
↶Co-Founder;✧
↶Admins;✧
↶Mods;✧
↶VIP;✧
꒰?꒱ owner
꒰?꒱ staffie
⸝⸝˚₊・baristas
⸝⸝˚₊・customer
⸝⸝˚₊・bots
꒰?꒱ hostess
꒰?꒱ staffie
꒰?꒱ am
꒰?꒱ pm
꒰?꒱ cuties
꒰?꒱ botsies
꒰?꒱ booster
꒰?꒱ bots
꒰?꒱ members
₊˚. ꒰ owner ꒱ ₊˚
₊˚. ꒰ moderator ꒱ ₊˚
₊˚. ꒰ friends ꒱ ₊˚
₊˚. ꒰ verified ꒱ ₊˚
₊˚. ꒰ muted ꒱ ₊˚
⸝⸝˚₊・owner
⸝⸝˚₊・pastry chefs
ꔰOwnerꔰ
⸙Head of Staff⸙
ꔰDungeon Masterꔰ
⸙Support⸙
Final Words
Adding roles to your Discord server is very necessary because it creates a hierarchy.
For instance, the "Owner", "Co-Owner", and "Admin" roles are at the top of the ranking.
Alternatively, the "@everyone" role is at the bottom of the ranking.
Additionally, adding roles is also important to organize your Discord server.
If everyone has a "@everyone" role, it is difficult to identify the staff member.
As a result, your Discord server will not be organized.
Have you seen any Discord server roles that you like in the list?
If you did, you should use them in your server too.
What's Next
How to Make a Read-Only Channel on Discord
How to Fix "You are being rate limited" on Discord
Arsalan Rauf is an entrepreneur, freelancer, creative writer, and also a fountainhead of Green Hat Expert. Additionally, he is also an eminent researcher of Blogging, SEO, Internet Marketing, Social Media, premium accounts, codes, links, tips and tricks, etc.