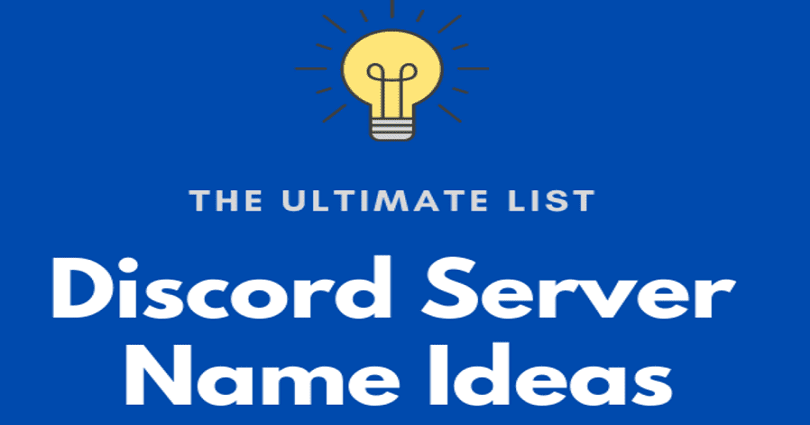 When you are making a new discord server, a task that needs to be done is to choose a discord server name.
Firstly, you need to choose a template and if your server is for a larger community or just only for a few friends.
After doing so, you can personalize your server by assigning a name and an icon to it.
However, good Discord server names are difficult to compose.
Generally, you decide to use a server name that is related to the niche.
For instance, if you are creating a gaming server, you can add words related to gaming in name of your server.
Here is an example of a gaming server name such as "Gamelodge".
This post has more than 150 good, aesthetic, and cool Discord server names and ideas for gaming, friends, chilling, and so on.
In addition, you are also going to see if Discord server names are unique and how to come up with a good Discord server name.
Are Discord server names unique?
No, you do not have to choose a unique server name because Discord server names are not unique.
It means that you can choose the same name as someone else is using for its Discord server.
You need to send the invite link of your server to your friends to join your server.
After enabling the discovery, the server will be set to public.
In short, it will be easy for people to find your server on Discord directly by using the name of your server.
However, to enable the discovery, you need to have more than 7,000 server members.
How do you come up with a good Discord server name?
You can create a good Discord server name, the only thing you need to do is to make it easy to memorable and short.
Usually, you can decide to select a Discord server name that is relevant to your server's niche.
For instance, if your niche is gaming, you can include a word related to gaming niche while choosing your server's name.
Here is an example of a Discord server name related to gaming is "Gamelodge".
Alternatively, if your Discord server is for school, the relevant name can be "Studycabin".
In addition, you can also use spaces in your Discord server name.
Good Discord server names
Anti Stress
Cuddle Kingdom
Luna Academy
The Basement
Confessions
Nice People
Heartbreak Station
Beautiful People
Mongol Empire
Rainy Day Café
Study Cabin
Good Vibes
Mental Hospital
Chill Paradise
Gang Party
Honey Hangout
Froggie Club
100 Warriors
Kingdom Of Gentlemen
Banana Split
The Secret Club
The Birdlands
Gaming Area
Music Fam
Peaceful Cottage
Banana Republic
Cheese Club
Gamelodge
Ghost Corner
Pony Square
Chill Town
Donuts Squad
The Village
Art Town
City of Cats
Ultimate Dankers
Relax Nation
Cool Crib
Dreamworld
Money Hunters
Big Brains
Brick Club
Big Brains
Celestial Place
Cozy Corner
Sweet Palace
A Happy Place
Brainiacs
Broad Street
Good Friends
Friendly Chat
Cool Discord server names
Chatterbox
Fitness Universe
Love Shack
Ugly Club
Gossip City
Gambling Den
Throw Tantrums
Stoners Lounge
Savage Club
The Crew
The Last Picks
No Drama
Meme Hub
Lost and Found
Chill to the max
Clean Escape
Hideaway
Blue Castle
Be Happy
Book Café
Nice Friends
Chillzone
Psych Ward
Break from Adulting
Strangeland
Nomad Lounge
Ducky and friends
Tall People
Chatterland
Shades Hangout
The Coffee Shop
Respectful Folks
Lurkers Den
Out of Porportion
Troll Room
Vibes Heaven
Fwog Nation
Nightmare Palace
Eternal Flames
Play Corner
Elevated Network
Night Wolves
Lone Wolves
Playhouse
Study Cottage
Dang Club
Fictional City
Sleepover
Space Shuttle
Sakura Wonderland
Aesthetic Discord server names
Strawberry Patch
Koala Bears
Lazy Seal Gang
Baby Witches
Slumber Party
The Gulag
The Penthouse
Bamboo Forest
Lost Paradise
Zen Garden
Chill Treehouse
Jurassic Park
Red Wolves
Pizza Parlor
Cool Kids
The Squad
Video Junkies
PepeClub
Friends Hangout
NightClub
Netflix and Chill
Tree Club
Anime World
Vibe Place
PretzelGang
Silver Bullet
Cookie Lounge
Sky World
Cottage Hive
The Project
Team Monke
DogeHub
Just Emotes
Happy House
Lemon Kingdom
Yacht Club
Billionaires
Depreciation Squad
Lofi Café
Base Resort
Blossom Café
Programming Lab
Morning Commute
The Bread Empire
Safe Space
The Creed
Debate Hub
The Royal Family
Vibing Booth
E Nation
Final Words
Have you found a discord server name for your server or did you like any?
If you have got the server name, feel free to use it for your server.
If you are unable to finalize any server name, you can use the given names as inspiration to create your own.
Additionally, you can change the Discord server names later, so you don't have to be worried in the beginning.
Go to your server settings and change it.
Then, change your server name in the "Server Name" field and update the server name and save the changes to apply it.
What's Next
Good, Cool, And Aesthetic TikTok Usernames Ideas
How to Get an Animated Profile Picture on Discord
Arsalan Rauf is an entrepreneur, freelancer, creative writer, and also a fountainhead of Green Hat Expert. Additionally, he is also an eminent researcher of Blogging, SEO, Internet Marketing, Social Media, premium accounts, codes, links, tips and tricks, etc.