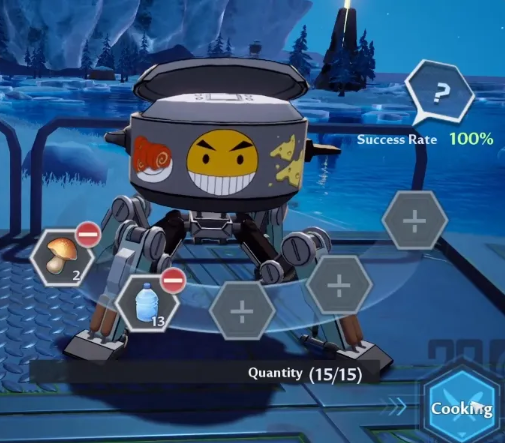 Tower of Fantasy contains multiple recipes that you can make.
However, before you start making the food, you have to discover a recipe first.
To discover a recipe, your task is to gather and place the correct ingredients in the cooker until you accomplish a 100% success rate.
In Tower of Fantasy, you can find a recipe that is, the Fried Mushrooms recipe.
After obtaining the correct ingredients for it, the recipe can be made by placing them in the cooker.
However, you might not have any idea what are the ingredients for it because of the lack of hints.
In this post, I will guide you on how to make the Fried Mushrooms recipe in Tower of Fantasy.
Fried Mushrooms recipe in Tower of Fantasy
Fried Mushrooms in Tower of Fantasy:
2x Mushrooms, 13x Carbonated Water
Fried Mushrooms recipe (after discovery):
This is related to the "Make fried mushrooms" quest for the "Perfect dish".
After placing 2x mushrooms and 13x carbonated water in the cooker, the success rate will be 100%.
You can add carbonated water if you don't have a lot of mushrooms until you complete 15/15 ingredients.
Instead of carbonated water, you can also use more mushrooms to make it 100%.
However, the lesser ingredients you will add, the lower the success rate will be.
After finding the recipe, it can be made by placing 2x mushrooms.
To begin the cooking of dish, you need to select "Cooking".
After completing it, you'll get 1x Fried Mushrooms.
Additionally, the quest will display, "Done making fried mushrooms".
After the consumption of the food, you'll regenerate 5 satiety and 10% + 1,500 HP to yourself.
You can locate mushrooms south of Astra Shelter and the Football Field.
You can purchase Carbonated Water from food vendors in the game.
What's Next
Nut Tea Recipe in Tower of Fantasy
Steamed Egg with Sea Urchin Recipe in Tower of Fantasy
Golden Egg and Tomato Recipe in Tower of Fantasy
Arsalan Rauf is an entrepreneur, freelancer, creative writer, and also a fountainhead of Green Hat Expert. Additionally, he is also an eminent researcher of Blogging, SEO, Internet Marketing, Social Media, premium accounts, codes, links, tips and tricks, etc.