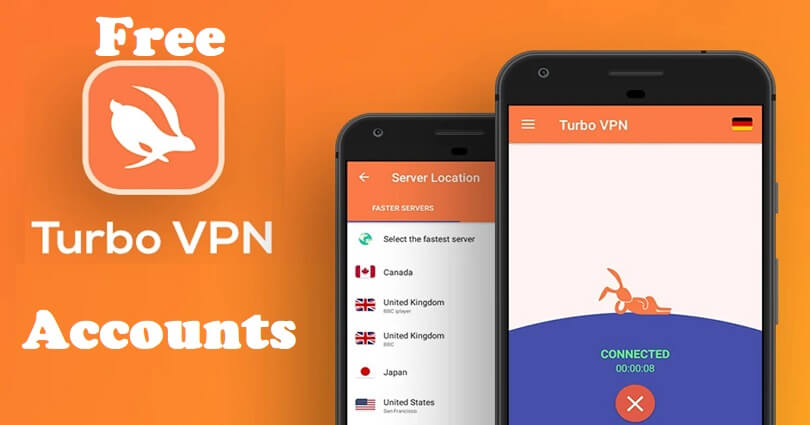 Turbo VPN is one of the prominent app that has the most secure VPN connection around the web.
With the help of Turbo VPN, you can use the geo-restricted data and services as well as content.
This app contains more than 21,000 servers that help you to stream, download, and gaming which are available more than 48 countries.
The aim of the company is the customer satisfaction and they prefer their privacy, making sure to provide a safe online experience.
Additionally, the customer care is available 24/7 to help users in terms of online browsing.
This post has a list of free Turbo VPN accounts (turbovpn.com) with email addresses, passwords, and premium membership.
Is Turbo VPN free?
Turbo VPN contains a free as well as a premium version.
The free version has fewer server locations, available for only 1 device, and a strict no-log policy.
Alternatively, the premium version comes with an access to 50+ countries, over 24k+ servers, up to 5 devices, and additional features.
The cost of one month is $11.99/month, for 6 months plan, the cost is $6.67/month, for 12-month plan, $5/month, for 2 years (24 months plan) the cost is $4.17.
How to get free Turbo VPN
To get a free Turbo VPN plan, use different survey sites including Survey Junkie or YouGov to earn rewards such as PayPal cash.
How to create a Turbo VPN account
To create a Turbo VPN account, visit their official website: https://turbovpn.com/free-vpn.
After reaching there, download the free VPN app and start using it.
You need to choose the profile icon and select "Create a New Account".
In the end, provide your email, select a password, re-enter your password, and hit "Sign Up".
Free Turbo VPN accounts 2023
Free Turbo VPN accounts
| | |
| --- | --- |
| Email address | Password |
| hisanek699@gmail.com | m3RIgA+6 |
| darov63305@wwgoc.com | N6Qo?ibo |
| edgpoe032@gmail.com | B=axl9T5 |
| sdkxce549@gmail.com | st3pr&Ph |
| vblero3045@gmail.com | w!ZIC2m2 |
| felero6563@youke1.com | =R8Si3-f |
| divomip184@gmail.com | 0oXusp?s |
| pufipud623@gmail.com | d35*AHlS |
| jukapeb668@gmail.com | W2p8$daP |
| zisicog382@yahoo.com | N1+otRE1 |
| nafolod433@gmail.com | t8Epac$o |
| jijabom692@yahoo.com | 0RaklT*p |
| didafop846@hotmail.com | $W4h=0Ez |
| foguluk208@hotmail.com | Th1X=yuj |
| pixitup574@hotmail.com | 6Re?up1- |
| lofucug176@yahoo.com | T-I8l+He |
| kevapap716@gmail.com | spl2-iYL |
| zozujim482@gmail.com | cHAp=C61 |
| wifalap407@gmail.com | !8Ya*8Ph |
| citifed654@gmail.com | _rAYad6& |
| wopief902@gmail.com | kA6ETa-a |
| suzupik342@outlook.com | 7ogeQ?PH |
| zipetep225@outlook.com | +R79#SWU |
| vogunad178@gmail.com | ?EQod6W9 |
| bifigep441@gmail.com | slSw+G!6 |
| luxatod581@outlook.com | @If98rA# |
This table contains a limited number of Turbo VPN accounts and you have to use them before anyone tries to access them.
Most of the accounts are made from temporary email addresses and you cannot use them if they are deleted from the system after usage.
If someone has updated the password, this is evident that you will not be able to log in to a turbovpn.com premium accounts.
On the other hand, the account is banned or deleted or you are using the wrong password to log in.
To avoid the incorrect passwords, my recommendation is that instead of typing the password, just copy and paste the password.
If the Turbo VPN account from the list is devoid of pro or premium membership, there is a great chance that it is expired or needs to be renewed.
In this case, you need to use other Free Turbo VPN logins from the list.
I will add more Turbo VPN accounts to the table in the future, you can bookmark the page to obtain Turbo VPN accounts free later.
What's Next
Free Netflix Accounts and Passwords
Free Fortnite Accounts (Email and Password)
Arsalan Rauf is an entrepreneur, freelancer, creative writer, and also a fountainhead of Green Hat Expert. Additionally, he is also an eminent researcher of Blogging, SEO, Internet Marketing, Social Media, premium accounts, codes, links, tips and tricks, etc.