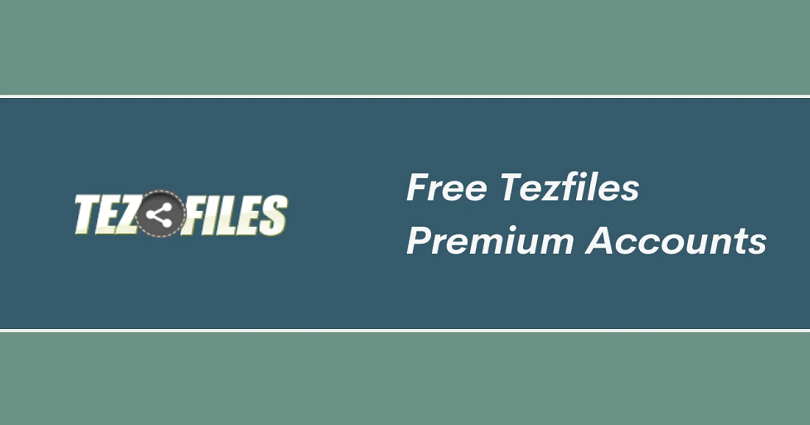 Cloud storage services offer their servers in order to host files and documents on them.
TezFiles is a good cloud storage service among cloud storage providers.
They have a free and a premium account that offers a myriad of features.
TezFiles features fast download speeds and file uploads.
It gives an ideal experience when you host a file.
Additionally, TezFiles makes it easy to retrieve and share your files.
This post has a list of free TezFiles Premium accounts with email addresses and passwords.
How to get a free TezFiles account
To get a free TezFiles account, you have to visit tezfiles.com and click on "Register".
After clicking on "Register", you can sign up for an account.
To complete the process, provide your email address/password and click on the "Sign Up" button (the sign up can also be done with Google).
After registering a new account, you will get the free account with TezFiles.
The free version does not have a fast download speed, and the storage is also lesser, and smaller upload size.
Is TezFiles free?
TezFiles is free, but it does have a premium version.
The TezFiles' free version features a slower download speed, lesser storage, and smaller upload size.
TezFiles premium offers a faster download speed, unlimited video preview, bigger storage, and many more features for its users.
There are 3 plans for paid version—30 days, 90 days, and 365 days.
The cost is $24.95, $18.32, and $12.50 per month respectively.
There are multiple payment options that you can use to make a payment such as VISA, Mastercard, Bitcoin, and more.
Free TezFiles Premium accounts 2023
| | |
| --- | --- |
| Email address | Password |
| gabohag455@geekjun.com | Gabohag455 |
| hwifo24929@fpwe.com | Hwifo24929 |
| berihe3277@nhsua.com | Weigew8124 |
| fowjfm1210@jawmc.com | 6!toc3Op#i |
| iehakfj9882@jiseg.com | si@2_WrIh7 |
| fweh24151@oawd.com | Fweh24151 |
| ofwob4211@aopje.com | Ofwob4211 |
| afege1593@pewe.com | Afege1593 |
| jiwjf9212@okfaw.com | Jiwjf9212 |
| awfok2349@kwfko.com | Awfok2349 |
| mvojaf3908@poge.com | Mvojaf3908 |
| baiwej2934@ojga.com | Baiwej2934 |
| nafokw2482@joafc.com | Nafokw2482 |
| eogpjw2984@owqjf.com | Eogpjw2984 |
| vuwfo3875@jeoq.com | Vuwfo3875 |
| bquiw1892@oejaw.com | Bquiw1892 |
| djfniw0214@pqwf.com | Djfniw0214 |
| mawifh3104@kwjf.com | Mawifh3104 |
| akowm0145@kego.com | Akowm0145 |
| sofwej9124@lwoq.com | Sofwej9124 |
| kowmaf8811@entes.com | Kowmaf8811 |
| fkefep4821@kewac.com | Fkefep4821 |
| gkwow2000@iqwjf.com | Gkwow2000 |
| hydsn6124@oakfw.com | Hydsn6124 |
| jwief7129@jgeal.com | Jwief7129 |
| hwoim6199@koewa.com | Hwoim6199 |
| loowum1274@ojweg.com | Loowum1274 |
| figwwo1020@uwijf.com | Figwwo1020 |
| gkoew9212@ofwa.com | Gkoew9212 |
| fowjfm1210@jawmc.com | Fowjfm1210 |
| efwhie1294@ojfe.com | Efwhie1294 |
| vnewoe248@koeg.com | Vnewoe248 |
| hqwwof9133@wjfowa.com | Hqwwof9133 |
| weigew8124@aiwlp.com | Weigew8124 |
| bloyant2044@iegqx.com | Bloyant2044 |
| cateriw7011@ghaiw.com | Cateriw7011 |
We have added the free TezFiles premium logins above.
If you can't sign in to an account, it is happening because someone has updated the password for it.
On the other hand, the account may be removed or deleted by any user.
Since the accounts above are being used by many users, some of them might misuse them.
If an account does not have a premium version after signing in, it shows that the subscription plan for it has expired.
In this case, you can try using another account from the list (that has TezFiles Premium) or pay for a subscription to upgrade it.
I will update the Tezfiles premium accounts table frequently, so you can bookmark the page and check back later to get new accounts.
What's Next
Free Car Parking Multiplayer Accounts
Free Rapidgator Premium Accounts
Arsalan Rauf is an entrepreneur, freelancer, creative writer, and also a fountainhead of Green Hat Expert. Additionally, he is also an eminent researcher of Blogging, SEO, Internet Marketing, Social Media, premium accounts, codes, links, tips and tricks, etc.