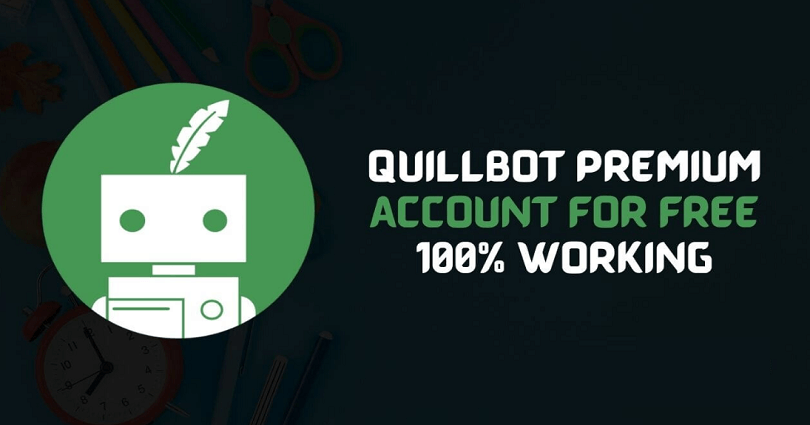 QuillBot is an AI paraphrasing tool that can help you when you write.
To rephrase them, you need to copy and paste paragraphs in them.
There are two free modes in it along with five premium modes.
You can improve your vocabulary, fluency, style and tone by using QuillBot tool.
To use the tool, copy and paste the text in the given box and the rest will be done by its AI.
QuillBot is a tool that has millions of users including students, writers, and journalists around the globe.
This post has a list of free QuillBot Premium accounts with email addresses and passwords (login information and cookies).
How to get a free QuillBot Premium account
To get a free QuillBot Premium account, the best bet is to download a cracked version of it.
To get started, you need to search for the terms "QuillBot Premium cracked" on Google or YouTube.
This can also be obtained by downloading a torrent for the tool from sites like PirateBay.
After downloading a cracked version of QuillBot Premium > Unzip it > Chrome > Settings > Extensions > Developer Mode > Enable > Load unpacked > QuillBot (the unzipped folder).
Is a QuillBot account free?
Yes, a QuillBot account is free, but you can use 2 modes in the free version, and Paraphraser also comes with limited words.
Alternatively, QuillBot Premium contains 5 modes.
The cost of QuillBot Premium is $19.95 USD (monthly), $13.33 USD (semi-annually), and $8.33 USD per month if paid (annually).
If you're unsatisfied with the tool, there is nothing to worry about it, just ask a refund from them within 3 days of purchase.
The paid version of the tool contains unlimited words in the Paraphraser, multiple modes, 4 synonym options, and so on.
Free QuillBot Premium accounts 2023
| | |
| --- | --- |
| Email address | Password |
| egwere215@gmail.com | 215egwere |
| fojil63978@evilant.com | fojil63978 |
| lehir41699@evilant.com | lehir41699 |
| toxone2545@corylan.com | toxone2545 |
| vohidar833@evilant.com | vohidar833 |
| fedeyod920@cadolls.com | fedeyod920 |
| fgerewr1346@gmail.com | 1346fgerewr |
| gafiyen321@ilusale.com | gafiyen321 |
| lemeva5134@corylan.com | lemeva5134 |
| hijega2073@cadolls.com | hijega2073 |
| shannonhodgkin@gmail.com | ergoj635 |
| xarihi5033@evilant.com | xarihi5033 |
| gehogek606@corylan.com | gehogek606 |
| carolanfiestas2002@hotmail.com | alcacer |
| belinda233anobaah@gmail.com | sdbng982 |
| mafesim235@cadolls.com | mafesim235 |
| omadham217@hotmail.com | adham222 |
| williamsarchitect6@gmail.com | bhjxz381 |
| sandrawilfred70@gmail.com | yqwbd525 |
| nancym55@hotmail.com | landrigan |
| watersm827@gmail.com | gwroj875 |
| aclongacre@outlook.com | fejbi183 |
| wel186006@gmail.com | csaxv293 |
| ironworker0147@gmail.com | uqwfb067 |
| ruanmingren94@gmail.com | bveuy285 |
| fadeldurant373@gmail.com | wgreoj954 |
| simplechoreskw@gmail.com | sybfwe836 |
| assafeenah&hotmail.com | Nextweek |
| augustinaclinton3@gmail.com | jger6735 |
| thegraceofgod11@gmail.com | dfwsuh607 |
| pakidentity@outlook.com | afwjo28 |
| thecakeartists07@gmail.com | edfgj305 |
| apishive@gmail.com | sjeuij592 |
| oliverhard8@gmail.com | gerhui736 |
| bstnjn@gmail.com | vcejur176 |
| | |
The free QuillBot Premium accounts in the above list are based on a first-come-first-serve.
To increase your productivity, use this tool, it will scan and find out the plagiarism and compare all modes.
If you are not able to log in to an account, there is a high chance that someone has reset the password for it.
Otherwise, it might be happening because the account is deleted by anyone or suspended by the service.
In this case, you can always use another Quillbot Premium login information.
If an account of Quillbot is without a premium subscription, it means that the subscription of that account is expired.
I will add new QuillBot Premium accounts to the table periodically.
You can bookmark this page to get Quillbot premium free accounts (for Chrome, click on the star icon on the URL field) and come back to this article again.
What's Next
Free Grammarly Premium Accounts
Arsalan Rauf is an entrepreneur, freelancer, creative writer, and also a fountainhead of Green Hat Expert. Additionally, he is also an eminent researcher of Blogging, SEO, Internet Marketing, Social Media, premium accounts tips and tricks, etc.