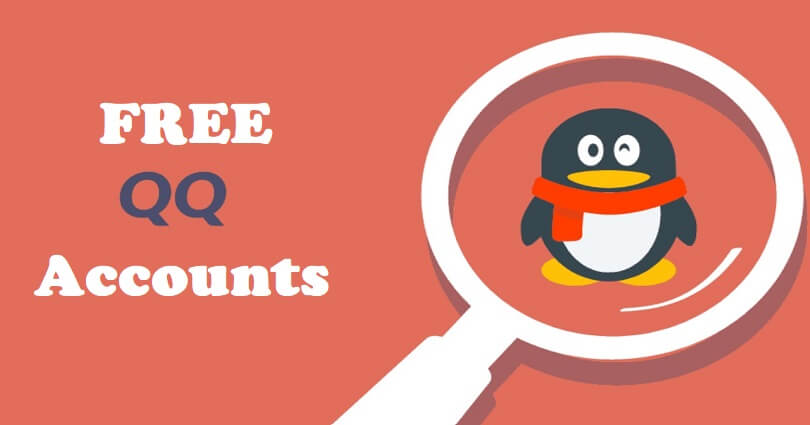 QQ is an instant messaging app and the developer of the app is Tencent in China.
The app is replete with features including online games, music, shopping, movies, and so on.
Currently, it contains more than 560 million monthly active users.
In February 1999, QQ was first released in China as OICQ, referencing ICQ.
The company had updated its name to QQ because of a lawsuit threat by ICQ.
The app was initially started as a communications and all the features are added later.
This post has a list of free QQ accounts with email addresses, passwords, and membership subscriptions.
Is QQ free?
Yes, QQ is free, but it does have in-app purchases.
QQ contains a membership subscription that is known as "Diamond" level membership.
There are multiple schemes in it including Red, Yellow, Blue, Purple, Pink, Green, VIP, and Black.
Red gives a colored account name, Yellow contains extra storage, and Blue comes with special QQ game abilities.
Like Blue, Purple also contains QQ game abilities, Pink contains different boosts for QQ Pet, and Green gives QQ Music.
VIP gives you extra chat features while Black comes with the advantages of DNF.
How to get a QQ membership for free
To get a QQ membership for free, use different survey sites including Survey Junkie or YouGov to earn rewards such as PayPal cash and buy them.
How to create a QQ account
To create a QQ account, visit their website: https://ssl.zc.qq.com/v3/index-en.html.
After reaching there, choose your nickname and select a password.
The next step is to add your phone number to complete the verification by sending the code.
Enter the code that's you received on your phone number, agree to the terms, and click "Sign up now" to create account.
Free QQ accounts 2023
Free QQ Premium accounts
| | |
| --- | --- |
| Email address | Password |
| vopfla251@gmail.com | 8h0HlCR? |
| quigos923@gmail.com | tU8WOg$9 |
| tayflo259@gmail.com | slPR&2+p |
| vesrof827@gmail.com | t!@1R9bo |
| dimplyu507@gmail.com | Gin2koC_ |
| werkos576@gmail.com | GlS0St– |
| kepbrin648@gmail.com | tr@9E$uC |
| kmetcj3851@gmail.com | $rU3ap_3 |
| jukapeb668@gmail.com | W2p8$daP |
| zisicog382@yahoo.com | N1+otRE1 |
| nafolod433@gmail.com | t8Epac$o |
| jijabom692@yahoo.com | 0RaklT*p |
| didafop846@hotmail.com | $W4h=0Ez |
| foguluk208@hotmail.com | Th1X=yuj |
| pixitup574@hotmail.com | 6Re?up1- |
| lofucug176@yahoo.com | T-I8l+He |
| kevapap716@gmail.com | spl2-iYL |
| zozujim482@gmail.com | cHAp=C61 |
| wifalap407@gmail.com | !8Ya*8Ph |
| citifed654@gmail.com | _rAYad6& |
| wopief902@gmail.com | kA6ETa-a |
| suzupik342@outlook.com | 7ogeQ?PH |
| zipetep225@outlook.com | +R79#SWU |
| vogunad178@gmail.com | ?EQod6W9 |
| bifigep441@gmail.com | slSw+G!6 |
| luxatod581@outlook.com | @If98rA# |
This table contains a limited number of QQ accounts and you have to use them before anyone tries to access them.
Majority of the accounts are made from temporary email addresses and you cannot use them if they are deleted from the system after usage.
If someone has updated the password, this is evident that you will not be able to log in to a QQ account.
On the other hand, the account is banned or deleted or you are using the wrong password to log in.
To avoid the incorrect passwords, my recommendation is that instead of typing the password, just copy and paste the password.
If the QQ.com account from the list is devoid of Premium subscription, there is a great chance that it is expired or needs to be renewed.
In this case, you need to use other Free QQ logins from the list.
I will add more QQ accounts to the table in the future, you can bookmark the page to obtain free accounts later.
What's Next
Arsalan Rauf is an entrepreneur, freelancer, creative writer, and also a fountainhead of Green Hat Expert. Additionally, he is also an eminent researcher of Blogging, SEO, Internet Marketing, Social Media, premium accounts, codes, links, tips and tricks, etc.