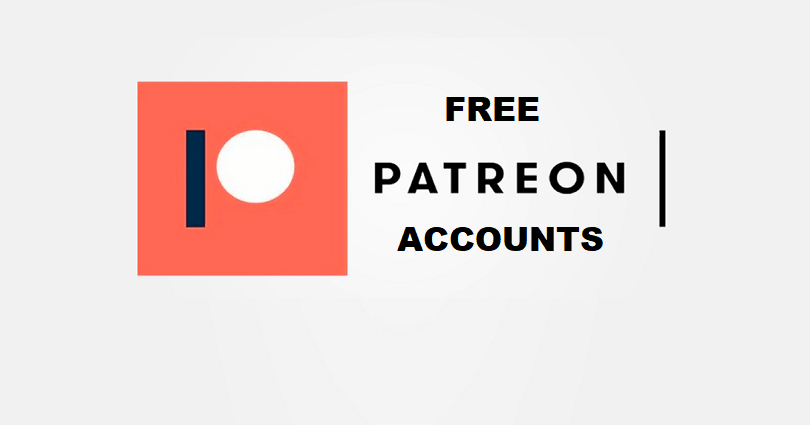 Patreon is a platform that allows the creators to get payment for their desired job.
For instance, if you are a video creator, it can monetize your videos.
Your fans can pay you minimum of $1 per month or pay for every post you create.
On the 1st of each month, you will receive the payment from Patreon after they processes your patrons' payments.
If you're a patron, you can pay your creator to support him/her by sending them money on a monthly basis.
You can become a fan to support them on a regular basis.
This post has a list of free Patreon accounts with money, email addresses, and passwords.
Is Patreon free?
Patron is free to join, to access the post of creators, you need to pay.
It includes the creators such as video creators, podcasts, artists, musicians, and so on.
After subscribing to a creator, exclusive features will be available for you.
The features and pricing depend on the creator's choice.
How to create a free Patreon account
To create a free Patreon account, visit this link https://www.patreon.com/ and hit the "Log In" or "Get Started" button.
The next step is to select "Sign up" next to "New to Patron?".
Enter your name and email address, select a password, and hit the "Sign up" button.
On the other hand, you can also use Google or Facebook for sign up.
Free Patreon accounts 2023
Free Patreon accounts:
| | |
| --- | --- |
| Email address | Password |
| vweihjfi939@ppdajs.com | dRadLZ=7esp |
| yehavel576@v3dev.com | 9rA*r7&hUn |
| cohjwe823@fijwe.com | _Re6i3Enup |
| uhcneu124@fjiwqf.com | Socrln*JE6 |
| yehavel576@v3dev.com | t@iw7YAXusi |
| ouwmc953@qwo.com | cruc0$dRO? |
| vweihi3298@jiasf.com | De*+c2boWI |
| fefjwaj2938@ijwaf.com | M4x-hipha$ |
| paxovi4434@usharer.com | STa8+P1epUc |
| dotab95621@usharer.com | _hiBofra5Ha |
| figesal585@vingood.com | rofiT_d04sp |
| jivesij846@v3dev.com | y!wAg3MeTrl |
| fanoc20207@vingood.com | dro#abrE&2i |
| xebix55576@webonoid.com | dRadLZ=7esp |
| poviwa1479@usharer.com | swEc7*=IdRi |
| royeme2280@usharer.com | CHoM8#-o6tE |
| sogero4104@webonoid.com | sLP+eM8yaCi |
| vowilij613@vingood.com | BruBiwRl@u8 |
| wapove4504@webonoid.com | s!LPruJ#s8Z |
| gojij68567@vingood.com | wRu2rIyid&# |
| pegid95215@vingood.com | Tl1oxoPr0d_ |
| sicoda1489@usharer.com | Cr2waxip1E_ |
| nilej95293@v3dev.com | festAJOv3x? |
| totateg248@webonoid.com | c8lXap1-*oc |
| tahalop587@vingood.com | phe2OSwI2-o |
| nanahe7060@vingood.com | dRo8oF3=b-S |
| damanax139@usharer.com | Slp6@HiPeb1 |
| taxef34115@usharer.com | ziTr?z2n0=r |
| cojoyac753@usharer.com | r!4re9Riplc |
| kilor83314@usharer.com | nOtix=s@6du |
| sosake2084@webonoid.com | B6cUc#okunA |
| lihap43201@vingood.com | =h&3tlqaW2p |
| rejeyi4587@vingood.com | d8?a?eB6caV |
| pesiji7166@v3dev.com | 8reqIq@bahu |
| talaf64433@v3dev.com | pha&o*LVe8w |
| yawile2659@vingood.com | d=$awEt7iVa |
| vapiyic311@vingood.com | t9Stlge_8dr |
| fecexo7223@webonoid.com | +?iGUpE9rab |
The free Patreon accounts in the above list are limited, you have to use them before anyone try to sign in.
Some of the accounts of Patreon have money/subscriptions while others are devoid of it.
It is my request not to change the password of any Patreon.com account so that other users can utilize them.
If you are not able to sign into an account, it is happening because someone has updated the password or deleted the account or it is disabled.
If the password is updated, you can use other Patreon account logins from the table.
You might not be able to log in because you have used the wrong password.
The number and letters that can confuse you easily include "S" and "5", and "O" and "0".
I will add new Patreon accounts to the list in the future.
You can bookmark this page (select the star icon on the URL field for Chrome) get Patreon.com accounts free and revisit the table later.
What's Next
Free CyberGhost Premium Accounts
Free Valorant Accounts with Skins
Arsalan Rauf is an entrepreneur, freelancer, creative writer, and also a fountainhead of Green Hat Expert. Additionally, he is also an eminent researcher of Blogging, SEO, Internet Marketing, Social Media, premium accounts, codes, links, tips and tricks, etc.