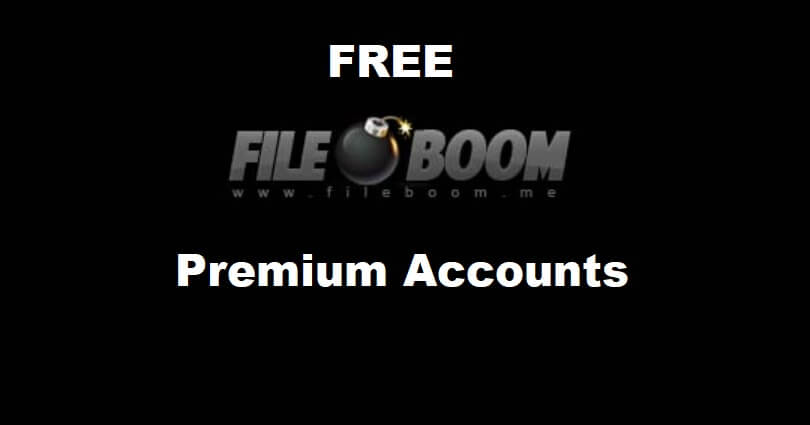 Fileboom is a trusted file hosting provider which has been serving its users for six years.
In 2014, it was launched in Edinburgh, Fileboom comes with secure cloud storage software to users around the globe with sharing, file downloads and maximum speed.
The platform is designed for the ease of users, so they can use it easily without technical skills.
It is easy to get register and without any trouble with different payment methods.
After storing the files on Fileboom cloud storage, you can use them from any device.
Their system is secured with built-in anti-malware, ensuring the user privacy and file security.
An FAQ section is offered along with customer service and email support for additional help.
This post has a list of free Fileboom premium accounts (fboom.me) with email addresses and passwords.
Is Fileboom free?
Fileboom contains a free account as well as premium account.
A free account can help you to get the downloading speed of 100 MB/sec but are not allowed parallel downloads and it allows you to download 1 file each hour.
The service does not offer direct download links, and the waiting time is also included before begin downloads.
It is also devoid of play/pause/stop download feature.
Alternatively, premium accounts come with unlimited and maximum download speed, also offer parallel downloads, and direct download links.
Downloads begin instantly, without any waiting is required and they are also resumable.
Premium accounts are also devoid of ads, captchas, longer storage duration and support for larger file sizes.
How to get free Fileboom premium
To get a free Fileboom premium membership, use different survey sites including Survey Junkie or YouGov which provides rewards like PayPal Cash.
How to create a Fileboom account
To create a Fileboom account, you have to visit the registration page.
After reaching there, provide your email address and choose a password.
To create your account, the last step is to click on the "Sign up" button.
You can choose the "sign up with Google" button to create an account with Google.
Free Fileboom premium accounts 2023
Free Fileboom premium accounts
| | |
| --- | --- |
| Username | Password |
| niras53158@youke1.com | oeG2E1kH |
| dehex23720@wiroute.com | c1aCH&_r |
| jesataf269@youke1.com | $roh@B9O |
| feyosoh821@wwgoc.com | m=xoSo3E |
| vopesa7061@wiroute.com | 8?I-ROXe |
| dikapo6911@wireps.com | _6A+O4ab |
| kakedi8673@wireps.com | 4Iz9cRa* |
| himewe3688@wiroute.com | 85E=rISo |
| vinatey280@youke1.com | +He5i5h= |
| jobolo8641@wireps.com | ?Et06r=C |
| zicezam447@youke1.com | cHAS#ut8 |
| woyipen463@wiroute.com | v6Mu#Ab8 |
| xudunis152@youke1.com | P?8+Ob8o |
| gapeziw535@youke1.com | N9N2w$_R |
| zepuzef732@youke1.com | N9s9Ic?@ |
| jahipav949@wiroute.com | @I-7cuTr |
| xijurur250@youke1.com | TR3b?u9A |
| bewibad634@wireps.com | *utH9CRe |
| pazohas750@wireps.com | Pr+9*5lq |
| zodupet569@wireps.com | _rIc6uPR |
| tuzuzuz754@wwgoc.com | @LBr5sp! |
| satusan777@wwgoc.com | 48QlR@C= |
| tifusos264@wwgoc.com | -hiP4!7E |
| yovovoj830@wireps.com | j0P!z_zO |
| zajuduk262@wiroute.com | 1esW@tiS |
| vumirik631@wwgoc.com | t@IP40p? |
This table contains a limited number of Fboom.me premium accounts and you have to use them before anyone tries to access them.
Most of the accounts are made from temporary email addresses and you cannot use them if they are deleted from the system after usage.
If someone has updated the password, this is evident that you will not be able to log in to a File boom account.
On the other hand, the account is banned or deleted or you are using the wrong password to log in.
To prevent this, instead of typing the password, just copy and paste the password.
If File boom account is devoid of premium or pro subscription, it indicates that the subscription has expired or not renewed.
In this case, you can use other Fileboom logins.
I will add more Fileboom accounts to the table in the future, so you can bookmark the page to obtain Fileboom accounts free later.
What's Next
Free Rakuten Viki Pass Accounts
Arsalan Rauf is an entrepreneur, freelancer, creative writer, and also a fountainhead of Green Hat Expert. Additionally, he is also an eminent researcher of Blogging, SEO, Internet Marketing, Social Media, premium accounts, codes, links, tips and tricks, etc.