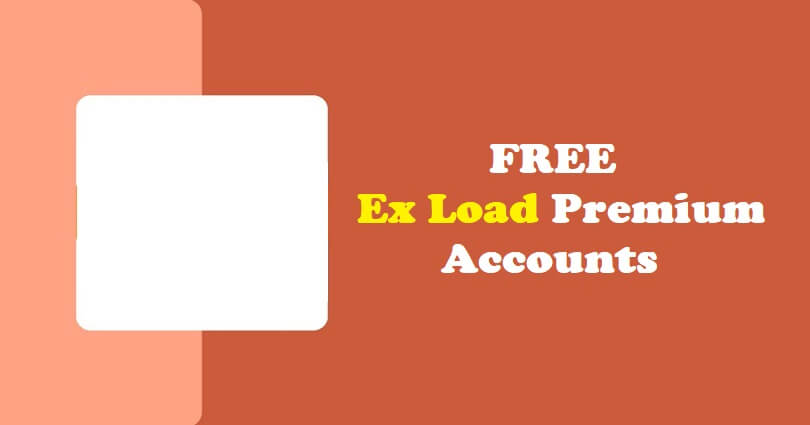 Ex-Load is a cloud-based storage system that helps you to share files with people who are mobile phone, tablet or PC users.
The service is focused on all files to be safe and reliable and securely stored that has 24/7 support to keep the user's files safe.
Ex-Load focuses 100% on security and their service is dependable that can be easy to use whenever you want.
Their gigabit networking and high-performance servers help you to access the files from anywhere quickly.
Additionally, Ex-Load has multiple payment methods such as bank cards along with other alternatives.
This post has a list of free Ex-Load premium accounts (ex-load.com) with email addresses and passwords (no generator).
Is Ex-Load free?
Yes, Ex-Load is free but it also has a premium version.
The free version of Ex-Load comes with a limited download speed and does not allow multiple files download.
Alternatively, the paid version is without download speed limit and can simultaneously download more than one files.
The storage space is also limitless, without any ads, resumable downloads and so on.
How to get a free Ex-Load premium subscription
To get a free Ex-Load premium subscription, use different survey sites including Survey Junkie or YouGov to earn rewards such as PayPal cash and buy them.
How to create an Ex-Load account
To create an Ex-Load account, visit their website https://ex-load.com/.
Once you reach the website, hit the "Sign up" link.
Provide your email address, select a password, and confirm your password.
In the end, solve the Captcha, click on the "Sign up" button, and visit your email to verify it.
Free Ex-Load Premium Accounts 2023
Free Ex-Load accounts
| | |
| --- | --- |
| Email address | Password |
| qzmkto4835@blyh.com | PrL3L=8f |
| kyitxh739@ljpa.net | 4r5spU*i |
| bhzwsf514@fjtd.com | Zo2t4+Hu |
| rdyweu623@scvx.net | Vls3E@Ln |
| nxjzvt281@bdka.com | Pho7+6OP |
| mvcoew438@kwse.com | W7K@P$Br |
| xqkrjn9853@omia.com | Fr4P-sWl |
| pwcysf3579@kjla.com | hudRi+3+ |
| ntebkg2815@hcps.com | 0O#&usiS |
| gikfmu2198@azxp.com | 0&F$pazi |
| cyiwps5721@vnfx.com | SPaB+!3o |
| mzhqsi8517@jklt.com | dL9U=r5s |
| wufjnl5026@dtby.com | f!sTo7PI |
| otnykv1643@epzs.com | 8l$a!U2H |
| uhaxdq2897@grwm.com | zlbr9@8A |
| vdyxra3749@fqde.com | jAt*l3us |
| jntzmk8347@rpga.com | 7imi*Ev9 |
| dixjlo6092@usdw.com | Ki4we9a_ |
| vypbkx7268@fwgn.com | wRa@R5=H |
| fukgbv3815@jemy.com | _e9oTrom |
| lvyxnu9526@kfrh.com | $ta6HObI |
| oyvmpc4528@tzhd.com | d7&a4L+O |
| xqkygm4935@hnua.com | 8r!F3lz! |
| gkcyjp2679@osbl.com | m-PH6G$b |
| rblpwx9083@mdjy.com | &!RLnI5r |
| bzlqxw6173@tepo.com | ch0+lsP1 |
This table contains a limited number of Ex-Load accounts and you have to use them before anyone tries to access them.
Majority of the accounts are made from temporary email addresses and you cannot use them if they are deleted from the system after usage.
Please do not update the password, it will help others to log into to an account.
If the account is not accessible, it means that the password might be updated by anyone.
Another reason is that the account is banned or deleted or you are using the wrong password to log in.
To avoid the incorrect passwords, my recommendation is that instead of typing the password, just copy and paste the password.
If the ex-load.com account from the list is devoid of an active subscription, there is a great chance that it is expired or needs to be renewed.
In this case, you need to use other Free Ex load logins from the list.
I will add new Ex-Load.com accounts to the table in the future, you can bookmark the page to obtain free accounts later.
What's Next
Free Flashbit Premium Accounts
Free PixelDrain Premium Accounts
Arsalan Rauf is an entrepreneur, freelancer, creative writer, and also a fountainhead of Green Hat Expert. Additionally, he is also an eminent researcher of Blogging, SEO, Internet Marketing, Social Media, premium accounts tips and tricks, etc.