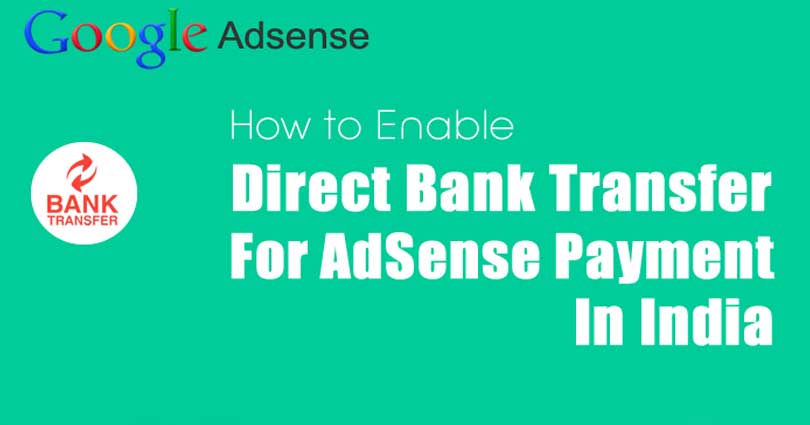 Earlier I shared the post about how Google Adsense pays in India. I told about Adsense that they are planning to enable EFT payment for Indian Adsense users. EFT is aka Electronic fund transfer. It will make sure that your Adsense earnings will be deposited into your account directly. It will save you the time for receiving the cheque and cheque clearance time. Being an Adsense publisher, will be helpful for you and will make your work paperless. In this post, I shall explain everything you need to get EFT payment for your Adsense account.
Also read:
How to Configure Wire transfer for Indian AdSense publishers
The whole setup process will take more or less 15 minutes. I highly suggest it do that to save time for your future payment. Follow the instructions step by step, and keep your mobile phone near you. As you may need to call your bank customer representative to get the Swift and IFSC code. By using direct bank deposit method, you can change the payment threshold according to your own choice. And can hold the payment for up to 1 year. So let's go through this quick tutorial to enable EFT payment for your Adsense account.
Log in to your AdSense account and Click on the gear box and select payments.
Click on Payment settings under payment page.
Click on add a new form of payment.
You need to enter your bank account details on the next screen. Two important details you need to get from your bank. It includes Swift BIC and IFSC code. In order to get Swift and IFSC code for your account, simply call your bank representative and ask for it. Most of the people use ICICI bank saving account, they use following swift code to get payment: ICICINBBNRI. If your bank is ICICI bank, then they will give you two swift code ICICINBBNRI for INR and CHASUS33XXX for USD. You will enter the swift code for INR and the bank will take care of the conversion. If your bank account is different from ICICI then I recommend you re-confirm it from your bank customer care. Current account for ICICI bank, you need to use ICICINBBCTS.
Click on save payment and that is all.
Now you will get money directly from your bank account. There are some more detail that you need to know due to the updated payment policy of Adsense.
You can update your payment method before 15th of any month.
You can now use any AdSense payment threshold greater than minimum ($100) payment 100$ is the minimum threshold to set.
You can hold your payment until any specific date; maximum up to 1 year. (Though I do not recommend using this feature, as you may face issue if AdSense decides to ban your account).
Direct bank deposit feature is used by most of the Indian Adsense publishers and it makes it easy. If you want to update your Adsense payment settings, log in to your Adsense account and update the payment settings.
FAQ about AdSense EFT Payment:
What is the minimum payment threshold for EFT payment?
Minimum payment threshold is $100
Is Pin verification necessary after AdSense introduced EFT payment?
Pin verification is essential process from AdSense to verify your address, so yes; it is!
In case if you are using another bank account such as HDFC, SBI and Axis so share the swift code in the comment section. So it will be beneficial for our other users. Do not forget to share this post with other Adsense publishers in India.
Arsalan Rauf is an entrepreneur, freelancer, creative writer, and also a fountainhead of Green Hat Expert. Additionally, he is also an eminent researcher of Blogging, SEO, Internet Marketing, Social Media, premium accounts, codes, links, tips and tricks, etc.