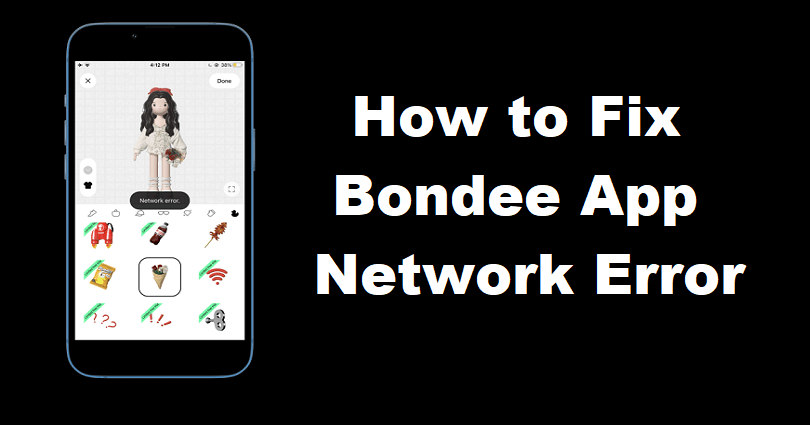 Bondee is a social networking app like Facebook that helps you to interact with your friends online.
In the app, you are allowed to invite up to 50 friends to your plaza and it also allow you to create your avatar.
Use trendy outfits from fashion community's designers.
All your friends will be at a plaza with their avatars and the live messaging can be used for chat purpose.
To boost your conversation, tell them how you are feeling and make your own space.
You can face the sea, experience the unknown and pick up drift bottles there.
In this article, I will tell you why is Bondee having a network error (try again) and how to fix it.
Why is there a network error in Bondee?
There's a network error in the Bondee app because you have a slow internet connection.
The error can also occur when the servers are overloaded because there are too many people using the app at the same time.
People who use mobile data to access the app will more likely to experience the error.
Since its launch, Bondee has become the number 1 app in different countries including Singapore.
Consequently, there is a surge in the number of users and the servers of the app are unable to handle it.
There are a lot of app users who are reporting about the network error,
"Why is my Bondee so laggy? I can't upload any pictures and it keeps saying network error".
"Bondee let me change my outfit please, why do u keep saying network error?".
How to fix Bondee network error
To fix the Bondee network error, you have to either change your network or clear the app's cache.
In addition, you can also relaunch the app after closing it or updating it.
In some cases, Bondee network error does not mean you have a slow internet connection.
The error is caused by the burden of the users as there are too many users on the app.
In this case, you have to wait until the servers are less crowded and you will be able to use the app smoothly.
Solution 1: Clear Bondee's cache
For Android users:
Go to the Settings app.
Apps > See All Apps > Bondee.
Storage & cache > Clear storage > Clear cache > Force stop.
For iOS users:
Tap and hold the Bondee app.
Choose "Remove App".
Reinstall Bondee from the App Store.
Solution 2: Move to another network
If you're a mobile data user, try switching to a Wi-Fi network.
If you're a Wi-Fi user, try moving to mobile data instead.
You can also use another Wi-Fi network if your internet connection of the current Wi-Fi is not fast.
Solution 3: Reopen the app
For Android users:
Swipe up from the bottom of your screen, hold, then let go.
Go to the Bondee app and swipe up on it.
Relaunch the Bondee app.
For iOS users:
Swipe up from the bottom of your iOS screen.
Go to the Bondee app and swipe up on it.
Relaunch the Bondee app.
Solution 4: Update Bondee
Go to the App Store or Google Play Store.
Search for "Bondee" to see the app.
Select "Update" if there is an option to update.
What's Next
How to Fix Bondee App Not Available in Your Country
How to Fix "Google Keeps Stopping" on Android
Arsalan Rauf is an entrepreneur, freelancer, creative writer, and also a fountainhead of Green Hat Expert. Additionally, he is also an eminent researcher of Blogging, SEO, Internet Marketing, Social Media, premium accounts, codes, links, tips and tricks, etc.