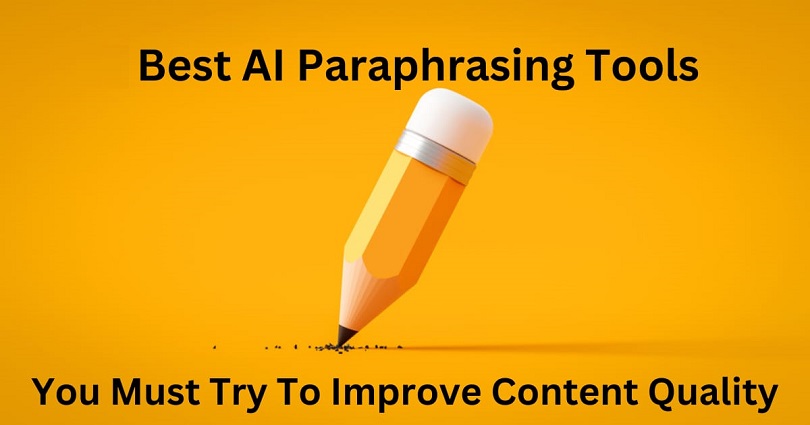 A good quality paraphrasing tool can make writing easier for anyone. So, which ones are the best today?
A paraphrasing tool can remove plagiarism, alter the content tone and improve the quality of any text by miles. These are the main reasons any writer needs a quality paraphrasing tool today. Therefore, it's imperative that they use a quality paraphrasing tool to gain all of its key benefits.
So, let's dive in and explore the five best AI paraphrasing tools one can use today to improve content quality.
What is a Paraphrasing Tool?
A paraphrasing tool is a software or a website that enables you to rephrase the content properly. The paraphrasing tool can be used for various purposes. It is mostly used by students who need to write their research papers and essays.
In this case, paraphrasing is a type of content creation that is done by using an automated tool. It uses NLP and machine learning algorithms to understand the original text and generate a new one in an entirely different manner.
So, writers can use it to ensure that they are not plagiarizing anything, and at the same time, they don't have to spend hours rewriting their sentences. It is also used by writers who need article-spinning software for their content marketing campaigns.
It helps them generate unique articles from a single source of information. Another one of the main purposes of using a paraphrasing tool is to improve clarity, change voice, and remove plagiarism. So, how does it do that exactly?
Improve Clarity: A quality paraphrasing tool that employs a blend of AI and its sub-branches, such as NLP and Machine Learning. Therefore, when it rephrases content, it uses the right words, flow, and sentence length. As a result, the content has much more clarity than the original text.
Change Content Voice: A good paraphrasing tools today offer various content modes. These content modes offer various tones/voices, which rephrase your text into that specific voice. Therefore, they are able to help writers serve in various niches and facets of writing.
Remove Plagiarism: When you rephrase content with a quality paraphrasing tool, it removes all the similarities and duplicity from its previous version. So, when the rephrased content is before you, you can see how it's free of plagiarism.
These are the three primary traits of any quality paraphrasing tool today. Since a good rewording tool would be AI-powered, it will do the work for you by rewriting sentences by rewording or rephrasing them.
So, as mentioned before, a paraphrasing tool works with AI, NLP, Machine Learning, and AI algorithms to rewrite sentences. So, it can also be used for many purposes, such as generating content and articles from scratch or rewriting existing content from other sources.
Granted, you need a good paraphrasing tool to get all these benefits. But it's also important to understand that these are the primary purposes for which you can use a paraphrasing tool. But a paraphrasing tool takes in a given text and then rewrites it in a more concise manner.
The paraphrasing AI algorithm analyzes the text for synonyms, contextual clues, and sentence structure to develop new words or sentences. This process isn't time-consuming, and it's worth it because this type of content creation can help improve a site's SEO ranking.
5 Best AI Paraphrasing Tools You Must Try To Improve Content Quality
In this section, you will find various types of tools ideal for writers in all niches. So, without further ado, let's get started:
Paraphraser.io is one of the best and leading paraphrasing tools available today. It's preferred by blog writers, academic writers, and students alike. The reason behind that is the quality that it achieves while rewriting your content.
However, one of the major parts behind its success is its UI design— one of the simplest and most convenient designs you can find in a paraphrasing tool. It has two sides, one where you upload or copy the content and one where you can see the paraphrased text.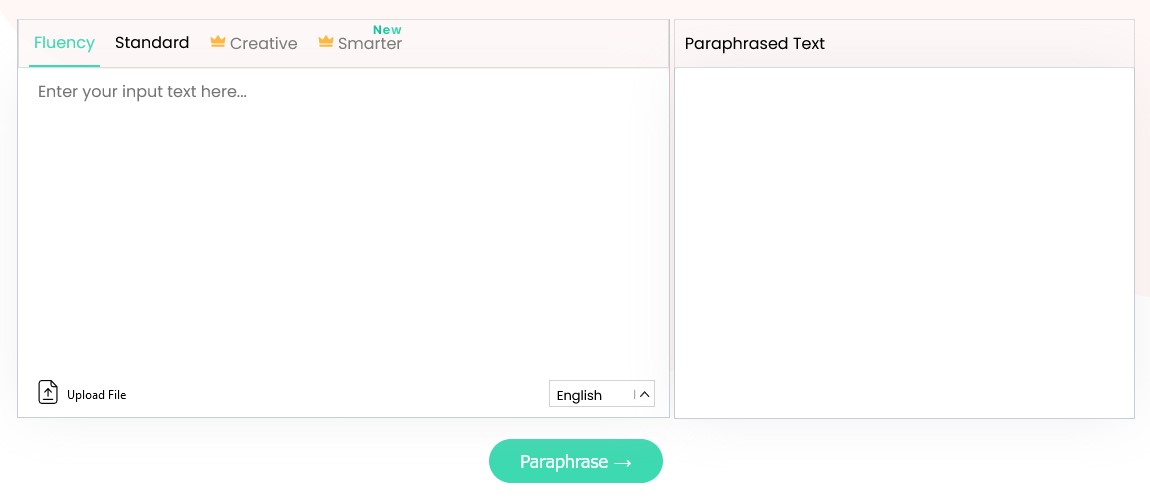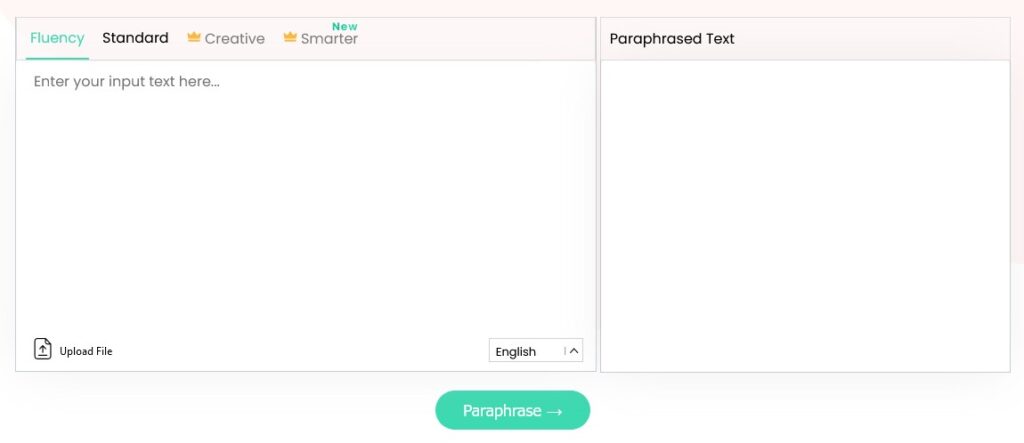 On the top-left corner, you can see four content modes, and each one can help you rewrite text for better quality and flow. So, what exactly do the four content modes do? Here's a brief explanation for each:
Fluency helps you improve the flow of your content. The paraphrasing tool uses easier alternatives (Synonyms) and makes your content more readable. It also rephrases your text in shorter sentences and paragraphs.
Standard mode helps you rewrite content without altering your article's existing content tone/voice. This is ideal for those just looking to remove plagiarism or similarities. Or, they wish to have an edge with original and unique content.
Creative (paid) allows you to rewrite content with higher creativity. Therefore, it'll use advanced synonyms, terms, and phrases. This one is ideal for academic writers or blog writers who wish to stand out in their niche.
Smarter (paid) is the fourth and last mode, allowing writers to make their content niftier by using powerful words. Therefore, this one is ideal for academic content, such as research papers or essays.
These four modes can help you rewrite your content to higher quality and also ensure that you stand out. However, these aren't the only four features that this tool has. It also offers a variety of other options, such as:
Ability to rewrite 600-words at a time;
Supports up to 22 languages;
Methods of file upload or copy content;
Advanced AI algorithms, which ensure it doesn't make content robotic;
Fastest response time in terms of paraphrasing and changing content tones.
These factors make it one of the leading and perhaps the best paraphrasing tools available today. That's why this rewording tool is ideal for writers in all niches and styles.
Pros-
Very quick in rephrasing content
Four intriguing content modes
Ideal for writers in all niches
Simple and convenient design
Cons-
The free version has many ads
EditPad's free paraphrasing tool is one of the reasons behind the website's rise in the writing tools business. This remarkable tool has quickly become the favorite of many writers, students, and marketers. One of the many reasons behind that is the generous 1000-word limit.
It's important to understand that this is more than what most paid tools offer, and that's why it's particularly popular among audiences. But first, let's talk about the UI design of this tool:


It's a simple design that follows the same "Editor vs. paraphrased text" format. It also allows you to upload the text document or copy and paste it into the editor. On the top-middle, you can find the four content modes.
Now, this tool takes a different approach to paraphrasing, which is very apparent in its four content modes. How are they effective? Let's see:
Smooth allows you to rewrite your content for better smoothness. In other words, this mode is also ideal for fluency, as it'll improve the flow of words and length of sentences and simplify the passages. It'll also remove any difficult-sounding words and replace them with something simpler.
Formal will make your content less casual and more official. So, you can judge by the sounds of it that this is ideal for professional or academic content. Since it'll remove any casual traits from your content and make it more professional-esque.
Smart (paid) is meant to make your content look more outstanding by adding specific bits that'll make it seem more professional and academic. That's why this mode is also ideal for academic content such as research papers.
Improver (paid) is meant to improve your text's overall quality and flow. Therefore, it'll scan and judge the content, then improve upon it by adding or removing certain factors from it. Making it an ideal companion for all sorts of writers.
These four content modes make it an ideal choice for writers in all niches and industries. That's why it's important that you use this tool, and if you can afford it, try the paid version. Because it's the extension of these four content modes that make it even better.
Besides all that, the tool offers 1000-words at a time for free. So, suppose you feel that only two of the free content modes are enough for you. In that case, you can utilize this free paraphrasing tool limitlessly.
Pros-
Very detailed content modes
Impressive language support
Extensive word-limit
Offers a dark mode
Affordable premium plans
Cons-
Free-version ads can be annoying
Captcha check can be slow
3. Paraphrasing Tool by Frase.io
Frase is an online platform for content optimization with respect to SEO. One of the tools it offers is the paraphrasing tool. This tool is quite different from regular paraphrasing modes. The main reason is that it is not fully automatic like the rest and doesn't have the "editor-output" box design.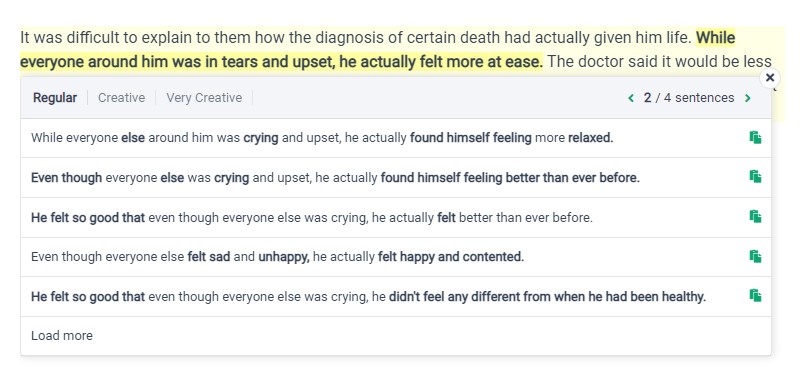 Rather, you have to select the sentence you want to paraphrase and click on the floating 'rewrite' button. This opens a drop-down menu that shows multiple variations of the sentence. And it does not end here. You get to select from three different modes as well.
The modes are as follows:
Regular mode is adept at adding words, replacing them, and using phrases to replace other phrases. This mode makes replaces difficult words and makes the text simpler to read.
Creative mode is good at changing sentences thoroughly. More phrases are used and sometimes the order of the words is changed as well.
Very Creative is just the Creative mode, but it is even better than the Creative mode. However, it is not always a good idea to use it over Creative because it can sometimes slightly change the meaning of the sentences
With the help of these three modes, there is no writing task that Frase cannot tackle. If you want to improve your essay or improve the write-up of an assignment, Frase can help you out. The fact that you have to see each sentence during paraphrasing and interact with the options, also means that you get to learn more about paraphrasing effectively.
Let's look at some pros and cons of this tool.
Pros-
Extensive word limit
No ads
Detailed content modes
Cons-
Free users can only use it three times daily
4. Paraphrasing Tool by Rephrase.info
Rephrase.info is an online platform for content optimization tools. The paraphrasing tool offered by this platform is quite good at improving content quality in various ways.


This tool has five different modes of paraphrasing, three of which are premium modes. That means that you will have to buy the premium version of Rephrase.info to access them. Each mode changes the text differently, so you can utilize them according to your needs. Here is what each mode does.
Fluency mode changes the sentences by adding phrases, replacing words, and even changing the word order. However, it can occasionally make grammar mistakes.
Standard mode can only replace words with their synonyms, so it is best used to replace difficult words and reduce the number of repetitive words.
Creative (premium) can do what Fluency does, but without the mistakes.
Smart (premium) tries to add some twists to the content by changing up a few things so that the content looks dramatically different.
Formal (premium) can change the tone of your content and make it more suited for official occasions.
With these four types of modes, you can drastically improve the performance of your content. Then there are also useful features such as downloading the output, erasing it, and copying it with one-button shortcuts.
Let's check out some pros and cons of this tool.
Pros-
Extensive support for 20 languages
Detailed paraphrasing modes
Integration with other tools on the platform
Serviceable word limit
Cons-
5. Paraphrasing Tool by Softo.org
Softo.org is yet another platform of tools, except, it doesn't specialize in content optimization tools. It offers various kinds of utility tools with content optimization tools being one of them. The paraphraser by Softo.org is a very standard tool.

It only offers two types of modes which are called Standard and AI modes. Both of these modes have different levels of performance. Here is what they do.
Standard mode just changes words from the text. It is best used to reduce the number of repetitive words. It can also be used to replace difficult words with their easier synonyms.
AI mode is can alter not only words but also phrases, so overall, it makes more elaborate changes.
These modes can help you find better wording for what you are trying to write. Just by watching this tool work, you can improve your vocabulary, which always translates to quality sometime down the line.
Here are some pros and cons of this tool.
Pros-
Support four languages
You can exclude words that you don't want to be changed from the paraphrasing process. This helps you keep your keywords intact.
Extensive word limit
Cons-
No premium version for extra features
How Does A Paraphrasing Tool Helps With Improving Content Quality?
We know that a paraphrasing tool uses AI algorithms to rewrite the text. It works with natural language processing and machine learning to make the process of paraphrasing faster and easier for the user. However, the question here is to understand how does it help improve content quality?
Paraphrasing is a way of rephrasing a sentence or paragraph to make it more concise and less or more formal—depending on the writer's preference and goal. But for some, paraphrasing is the process of the rewording tool, which restates the text to make it more concise.
So, here are a few reasons why a paraphrasing tool can improve content quality:
It's a great tool for improving content quality because it makes paragraphs and sentences flow better. It also improves the tone of the content and avoids plagiarism.
Paraphrasing can be used by anyone who wants to write better content—from bloggers to professional writers.
The process of paraphrasing substitutes some words with synonyms and makes them more readable.
Rephrasing any content by quality also ensures that the writer achieves their goal.
All these factors are useful for a number of reasons. For one, it helps with SEO by ensuring that your content looks different from other online articles. It also helps if you notice that you have accidentally repeated yourself in your article, as the tool will fix that for you.
Conclusion
These are the best paraphrasing tools that a writer can use today. Not only are these options very intriguing, but they are outstanding in their own way. Each of the free paraphrasing tools has some unique characteristics. However, the upper-most options are most suitable for improving content quality.
What's Next
Free Grammarly Premium Accounts
Arsalan Rauf is an entrepreneur, freelancer, creative writer, and also a fountainhead of Green Hat Expert. Additionally, he is also an eminent researcher of Blogging, SEO, Internet Marketing, Social Media, premium accounts, codes, links, tips and tricks, etc.