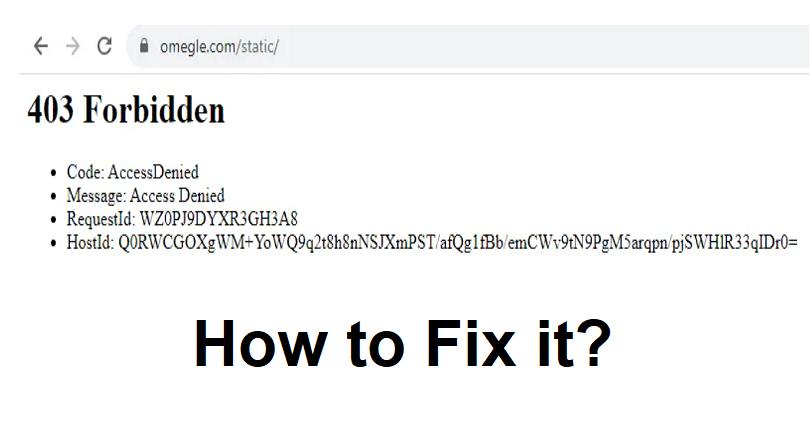 Omegle is a free online chat website and the creator of this platform is Leif K-Brooks and it emerged on the internet world in 2009.
With this service, you can communicate with other users through messaging as well as video chat.
You can also enter your interests to get the people with similar interests.
When it is in full swing, it gets more than 3 million daily active users with visitors mainly from the USA.
In 2023, many users are facing problems when trying to access the website and they see the error this site cannot be reached.
In this article, I will guide you on how to fix 403 Forbidden error on Omegle (Code: AccessDenied).
How to fix 403 Forbidden on Omegle
Unfortunately, on 9th November 2023, Omegle is no longer accessible as it is shut down and you cannot access it now.
The founder of Leif K-Brooks finalized the decision of closing the website.
Hence, you'll receive a 403 Forbidden or 404 error when you go to the site.
It happened because users were misusing the platform of Omegle for illegal and criminal activities.
Recent attacks on Omegle compelled Leif to shut down the website.
Leif tries to get support from organizations such as the Electronic Frontier Foundation to protect online rights.
How do I use Omegle after it shuts down?
You cannot use Omegle's website as it is completely shut down and no longer available.
However, you can use Omegle alternatives to experience the same journey.
The most popular alternatives of Omegle are Ome.tv and Chatroulette.
If you want to chat with random people, you should consider Antiland and give it a try.
What's Next
How to Fix "You have denied access to your devices" on OmeTV
How to Fix "Server was unreachable for too long" on Omegle.
How to Fix Gmail Not Sending Emails
Arsalan Rauf is an entrepreneur, freelancer, creative writer, and also a fountainhead of Green Hat Expert. Additionally, he is also an eminent researcher of Blogging, SEO, Internet Marketing, Social Media, premium accounts, codes, links, tips and tricks, etc.